OSA Student Chapter, SKIT Jaipur celebrated an International Day of light (IDL-2020) on 16th May 2020, in association with SPIE Student Chapter, MNIT Jaipur and OSA Student Chapter, MNIT Jaipur.  As person gathering was no longer possible due to the outbreak of COVID-19, event was organized on Google (online) Platform using Google Meet and Google classroom app. 35 participants were shortlisted from the 150 registered candidates. The day   started with the glimpses of latest trends in optics in the daily walk of life, followed by online quiz section for participants. The Participants also participated in online presentations on recent topics related to optics. Winners of online PPT and Poster competition was awarded by exciting prizes.
SKIT HACKATHON  was organized on 24-25th Feb 2020. The main aim is to boost problem-solving and time management skills in students. About 12 teams participated in the contest. The hackathon run continuously for 24 hrs. 
OSA's student chapter at SKIT had organized an event named Zoning OSA   on 28-Feb-2020, this event is a quiz-based competition between several teams. This quiz was all about optics and some general awareness about OSA. A total of 10 teams had participated in the event with 2 members in each team. 
A guest lecture of Professor Alessandro M. Deana was organized on 2nd July 2019. Prof. Deana who is presently working as professor in photonics and biophotonics, Universidade Nove de Julho, Sao Paulo, Brazil, has 15+ years of experience in teaching and R&D in photonics.   Professor addresses the gathering with various aspects of photonics in the application of medical diagnostic and therapeutic. He focused on the relationship of lasing technique with the bio-photonics based medical diagnostic and treatment. He enlightened the students with various research areas in the related field. The lecture was very interesting and presented in very fruitful manner.
An expert lecture cum technical Seminar was held on "Optical Fiber Communication (OFC)" on October 16, 2019. The session was taken by technical experts from Regional Telecom Training Centre (RTTC), BSNL Jaipur. The deliberations from BSNL team creates the curiosity of joining, testing, topology of networking, and many aspects related to optical fiber utilization in telecommunication. In the activity session, students are guided to measure the power level through OTDR and detect the presence of disrupt.       
A Workshop on HFSS Software for Antenna Designing is organized for the IEEE member students (Rajasthan section). This is on 4th Nov. 2019. Dr. Mukesh Arora (Member, Executive Committee, IEEE Rajasthan Section) delivered a lecture on "Basics of Microstrip Antenna" and Mr. Harshal Nigam communicated the "Hands on Practice on HFSS software". 
Training on PCB Fabrication was organized on 150th Birthday celebration of Mahatma Gandhi (i.e. 2nd Oct 2019). It's a hands on training on PCB Fabrication organized on 2nd Oct 2019. Participants were made to learn about the different phases of PCB Designing and Fabrications. Students participated with great enthusiasm and zeal. Mr. Pallav Rawal (Assistant Professor, ECE) enlightened the students about the benefits of future Integrated circuits.He guided that the craving for higher data rate with the urge for large capacity is undeniable in the current age of information. In this context, Silicon technology has reached its limit and offers myriads of challenges in scaling issues and designing high-speed processors.  The increased processing speed can be attained by its optical counterpart.
Hands-on training and workshop on Xilinx Vivado VLSI EDA tool and FPGA trainer kits was conducted by: Trainers from CoreEL Technologies Pvt. Ltd. Delhi in ECE Department on 10-11 April,18
Recent Trends in Nano-Electronics (RTNE-2018):
Faculty Development Program on Recent Trends in Nano-Electronics (RTNE-2018) was jointly organized by Rajasthan Technical University, Kota & Swami Keshvanand Institute of Technology, Management & Gramothan, Jaipur from 1st May 2018 to 5th May 2018. This FDP was fully sponsored by RTU (ATU) under Technical Education Quality Improvement Program phase III (TEQIP-III)
This FDP was inaugurated by Dr. Rajiv Sharma, Director, Mission of Nano Science and Technology (Nano Mission), Department of Science & Technology, New Delhi and Secretary, Science and Engineering Research Board (SERB), Govt. of India, New Delhi and Dr. G. K. Prabhu, President, Manipal University Jaipur.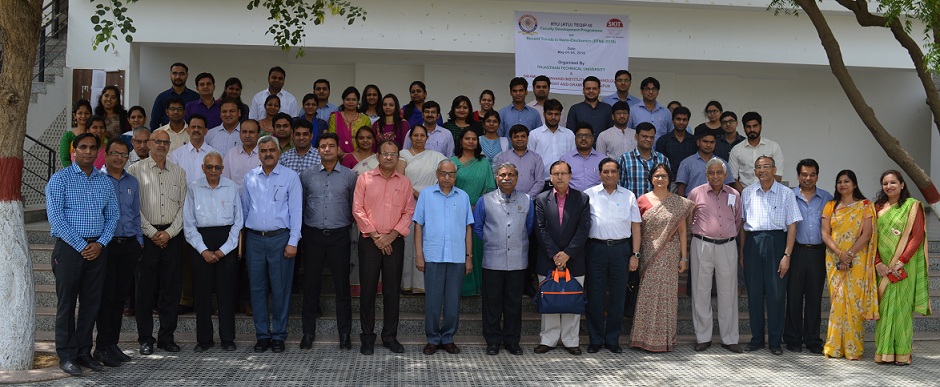 Department has organized FDP on "Project Planning ,Management & Development" 1-16 December 2017
Department has organized FDP on "Bloom's Taxonomy:Teaching and Learning" on 24-25 April 2017