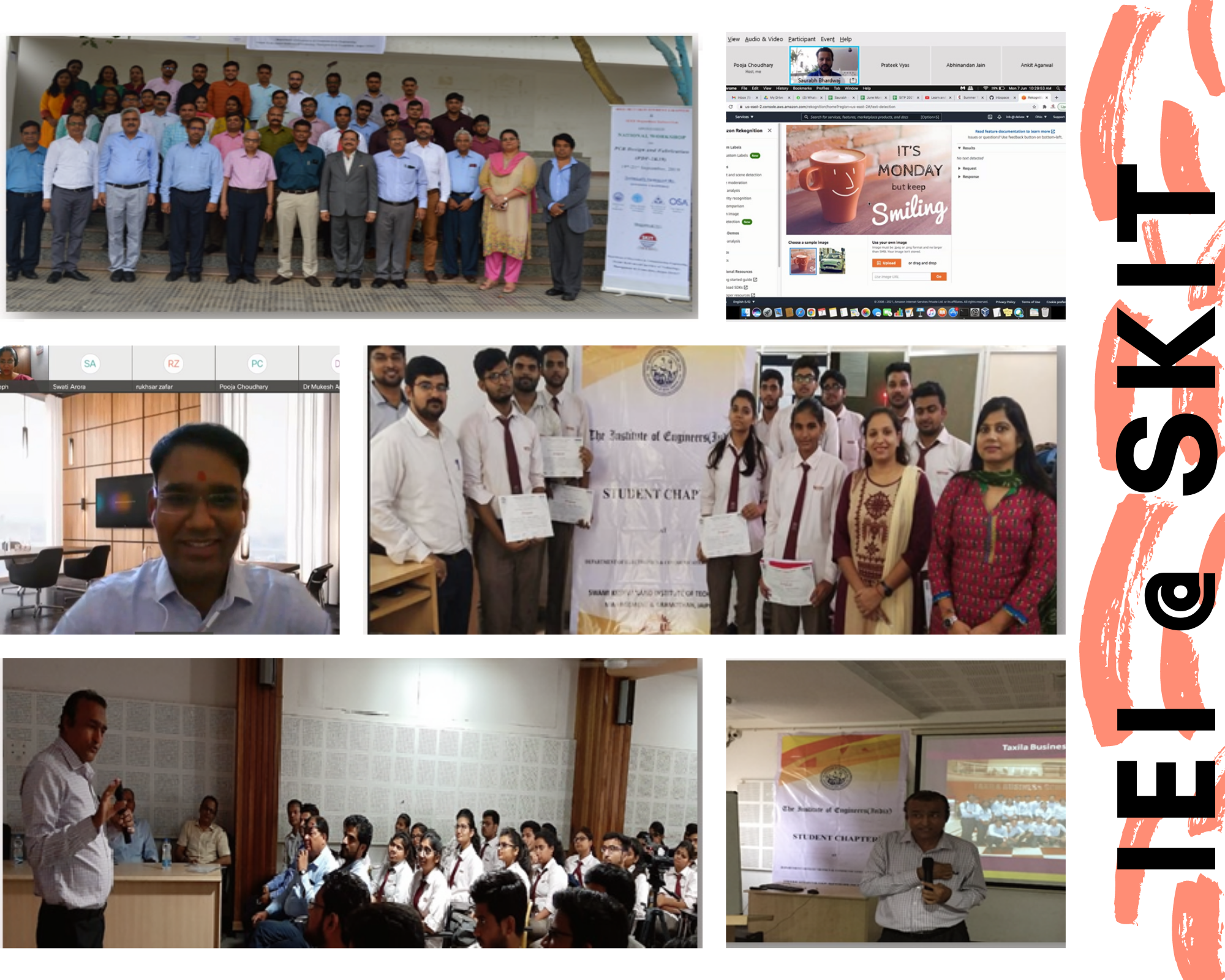 Departments of Electronics & Communication Engineering of Swami Keshvanand Institute of Technology introduced The Institution of Engineers (INDIA) (IEI) student chapter on 22.07.2019. The IE (Student Chapter) students' chapters organize various activities like special lectures, Quiz competitions, Group Discussions, Seminars, Workshops, Symposia, etc. for the development of socio-techno-intellectual qualities in the students as well as for encouraging their quest for knowledge in a disciplined manner.
Objective of Chapter
To inculcate the culture of research in the budding engineers so that they can contribute to the development of the nation.       
To promote the general advancement of engineering and their application.
Dissemination and updating of engineering and technological knowledge among its members, through Technical Activities.
Inculcating and promoting amongst engineers and technologists a growing commitment to the social objectives of the profession.
Faculty Coordinators:
Dr. Swati Arora
Ms. Pooja Choudhary
Associate Professor, Department of ECE
Assistant Professor, Department of ECE
Email id:

This email address is being protected from spambots. You need JavaScript enabled to view it.

Email id: 

This email address is being protected from spambots. You need JavaScript enabled to view it.

Contact no. 9982036054
Contact no. 8875140140
Student Coordinators:
Jai Prakash Anand
 Keshav toshniwal
B.Tech. 3rd year, ECE
 B.Tech. 2nd year, ECE
Email id: 

This email address is being protected from spambots. You need JavaScript enabled to view it.

 Email id: 

This email address is being protected from spambots. You need JavaScript enabled to view it.

Contact no. 8078692987

 Contact no. 6377603478
About Membership
http://www.kavery.org.in/engg/pdf/GuideLines_Student_chapter20.pdf
Events Conducted
Student Oriented Lecture Series on "Emerging Technologies" was held from 21-23 Sept 2022.
An on-line Webinar "Alumni interaction session on career opportunities in cyber security" was held on 15-01-2022. Click here for more details
An on-line interaction with Experts for opportunities RAS (2018) Mr. Rishi Sudhanshu Pandey Alumni, SKIT was held on 09-09-2021.
Relevance of Internships in career growth: by Mr. Saurabh Bhardwaj, conducted in Online Mode at SKIT Jaipur on 7-06-2021.
A Webinar on Machine Learning On Gaming Resource person: Mr. Jay Tailor, Mr. Jaswant Reddy Madam, conducted in Online Mode at SKIT Jaipur on 17-10-2020.
Journey from campus to RAS by Mr. Rishi Pandey, conducted in Online Mode at SKIT Jaipur on 9-09-2021.
Memoir reflections from Alumni: Mr. Dharmesh Patel Mr. Deepak Kumar Soni, conducted in Online Mode at SKIT Jaipur on 22-08-2020.
Entrepreneurship and leadership by Ashutosh Kumar Shandiliya, conducted in Online Mode at SKIT Jaipur on 12-06-2021.
Expert Lecture on How to prepare for higher studies for III Year students, conducted at Seminar hall, SKIT Jaipur on 12-02-2020.
Training on PCB Designing, conducted at ECL-01, SKIT Jaipur on 2-10-2019.
Expert Lecture of Mr. Akhilesh Chandra, Director (Executive Program & Career Services) on Expectation of Corporate Sector from Fresh Engineer, conducted at Seminar hall SKIT Jaipur on 26-09-2019.
National Workshop on PCB Designing, conducted at J. C. Bose, SKIT Jaipur from 19-21 Sept 2019.