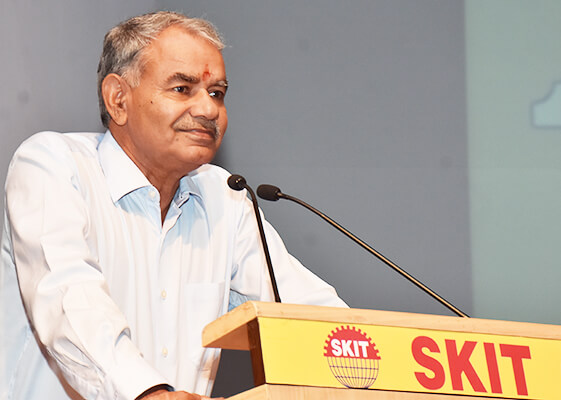 Surja Ram Meel
Chairman
The era we are living in requires us to be the people who are at ease with technology, can internalize innovations and make use of them in daily life. From a visionary beginning in the year 2000 as an engineering college, SKIT, is now moving on to new heights as a digital smart campus with contemporary and relevant programmes and e-learning systems. While the student number is growing and programmes are expanding, SKIT, retains friendliness and warmth which has characterized the institution from its early days. It is the place for those who want to develop their understanding of the world and widen their horizons. At SKIT, there is a constant concern to improve and upgrade its capacity in research, teaching, know how transfer and services. It is a community committed to the highest standards of scholarship and integrity in the higher education and develops in its scholars qualities of mind and character needed for fulfilling lives of leadership and service. As a multidisciplinary Institute, its curriculum open opportunities of both learning and knowledge and prepares its graduates to be problem solvers, communicators, and ethical citizens of a global community.
We firmly believe in and respect every individual's freedom of choice we expect that you will not let your grooming here go in vain and aspire to be people with professional competence- excelling every sphere of endeavour. We see all our students as an empowered lot with the sensibility to differentiate between just making a career and having a sense of vocation. I thank you for choosing SKIT for fulfilling your aspirations and dreams and look forward to your joining. Enjoy a great experience ahead and find your niche in life.
----------------------------------------------------------------------------------------------------------------------------------------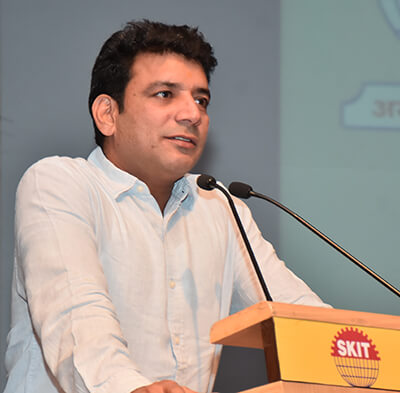 Jaipal Meel
Director
Welcome to global crossroads for learning and exploration. A place where ideas and imagination take flight in spectacular surroundings, a place to pursue your passions and sharpen your mind, a place which will discover your strengths and a place to hone your skills to make an impact on the world.
At SKIT, we teach our students to believe that nothing is beyond reach and that it should be our endeavour to be the best we can be on all fronts. Academic excellence should exist alongside, and not in place of a happy and enjoyable college life, which should be busy, productive and above all, meaningful. Remember your education is more than preparing for a career; it's really about preparing for a life. That's why, at SKIT, we encourage you to pursue a variety of interests and passions, both inside and outside the classroom. It is an institution with a difference, an amalgamation of tradition and modernity, a blend of Indian and Western, a heritage of vision and a legacy of innovation.
An academic rigour, an exciting range of courses, excellent facilities and an enjoyable environment at SKIT gives the college an unrivalled status. We, as the stewards of learning, are dedicated to grooming and nurturing the young minds into world ready professionals. Through diverse disciplines and focus on innovation and research, we are committed to cultivate critical thinking and creativity, inspiring lifelong passion for intellectual discovery. We teach students to develop the habits and mind-set to realize their full potential. We are very proud of our record and especially proud of the talent shown by our graduates. They leave this institution and go into the world informed, inspired and savvy enough to pursue their dreams and thereby enrich our culture.
If you are intellectually curious and determined, if you want to learn and contribute to a multinational community of learners, if you want to earn a degree that will prepare you to work with people of all cultures and equip you for the careers of the future, I invite you to be a part of SKIT, where learning has no limits.
OUR WORLD – YOUR WORLD
----------------------------------------------------------------------------------------------------------------------------------------

Prof. (Dr.) S.L. Surana
Director (Academics)
With every new academic session come new challenges, waiting to be translated into new opportunities. At SKIT, our vision keeps us focused and directed. Our values and our discipline make our journey productive and encourage us towards new horizons. We remain committed to walk with our students and help them realize their dreams and aspirations by channelizing their energies into varied directions that enables them to face the new global corporate challenges in the modern scenario and polish their multifaceted skills to become competent technocrats, entrepreneurs and industrialists serving the nation.
With a talented and committed team of professionals and academicians and a well -equipped infrastructure, the green SKIT campus offers an ideal backdrop for equipping the fresh students with the latest technological and communication skills to convert their ideas into functional realities. Here, at SKIT we try to make our students those fruit laden trees which serve mankind at large. The institute is committed to promote excellence and service through its untiring efforts to grow continually.
I take this opportunity to welcome the new students and assure their parents that their pursuit for successful career will be rewarding at SKIT.
----------------------------------------------------------------------------------------------------------------------------------------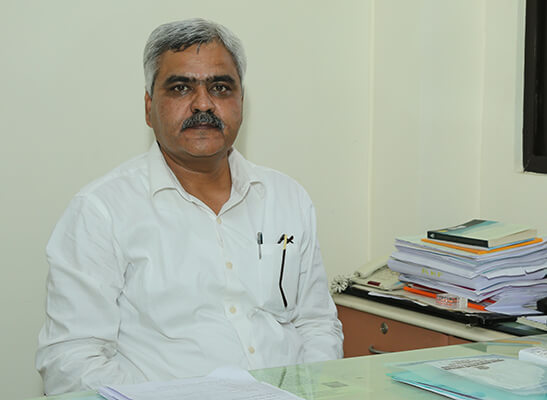 Prof. (Dr.) Ramesh Kumar Pachar
Principal
Engineering is a functional interface between science and society. When the two domains are so inextricably linked, it becomes pertinent to implant strong foundations among our future engineers so that they can reap positive outcomes for their personal development as well as for the growth of the nation. In the present age of robust technological advancements, students just need a few catalysts that can stimulate their potential and can guide them in choosing the right thing at the right time through the right way.
SKIT for the last 20 years has not spared any effort in playing a catalyst's role in fulfilling the aspirations of its students. It gives us immense pleasure to hear from our alumni about their continuing journey of success which they have achieved through their strong foundation. SKIT nurtures the individual talent and shapes it according to the individual needs. In the last few years, the institute has employed some unprecedented experiments that all move in the direction of the welfare of our students. With our futuristic vision, we wish that our students map greater scales of achievements and be proud for what they become in their lives.
Best wishes to our new entrants.
----------------------------------------------------------------------------------------------------------------------------------------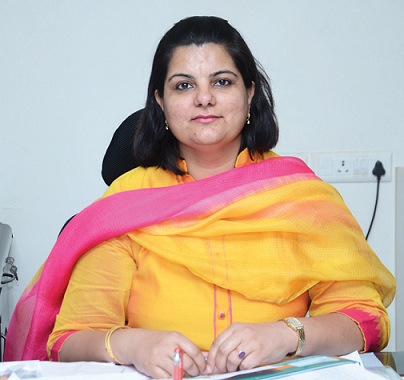 Rachna Meel
Registrar
Since its inception in the year 2000, the journey of SKIT has been rewarding and satisfying. Overcoming various challenges, the college is now firmly rooted and competent to offer various course –choices in Engineering, Management and Pharmacy sectors.
Here, we carve the fresh raw students into magnificent and competent professionals in their desired arenas. Our focus on values and principles make our students confident to march onwards with zeal towards their goals - of being placed in reputed organizations, becoming entrepreneurs or industrialist serving the society and nation at large. Various extracurricular activities at SKIT, provide a platform to the students to showcase their talents and skills.
The catalytic soft-skills training help to polish their personalities with the tools of preparedness, foresight and strategies which aid in moulding an institution or an individual to the path of growth and excellence.
I welcome the students to embark on a journey of success guided by our torchbearers and the best team equipped with pedagogical and research skills.
----------------------------------------------------------------------------------------------------------------------------------------