EXPERT TALK BY AR. KAVITA JAIN
Expert talk on "Traditional materials and construction technology". Delivered by Ar. Kavita Jain on 17 April 2019. This program was conducted by ICI-Student Chapter and IBC-Student Chapter.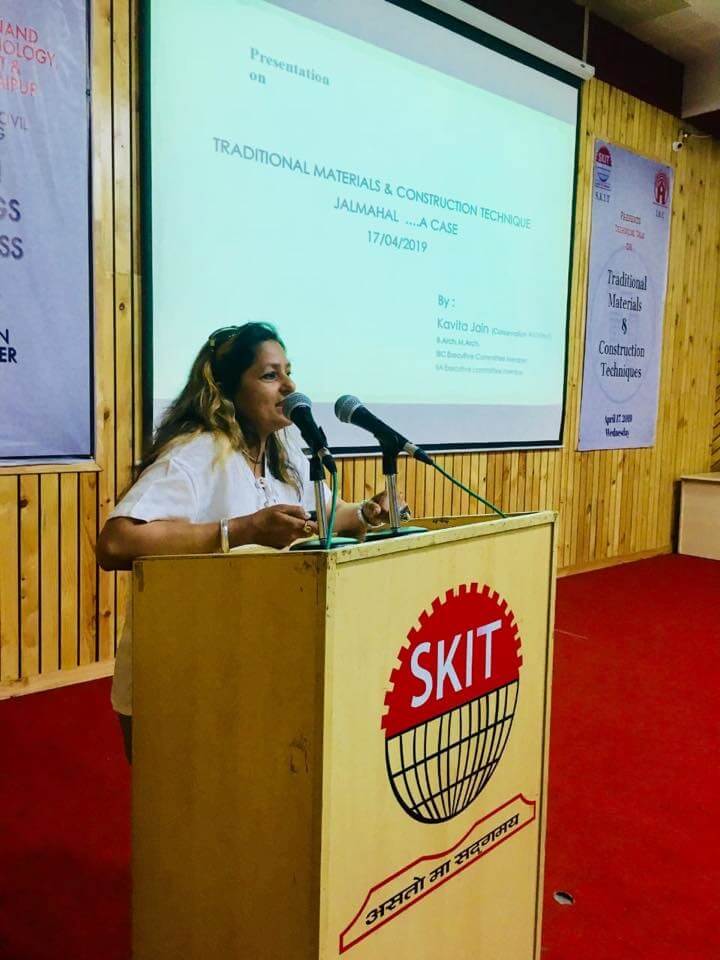 SITE VISIT TO RAJASTHAN INTERNATIONAL CENTRE
A visit to the construction site of Rajasthan International Centre, Jaipur was conducted by Student Chapter of Indian Concrete Institute (ICI), Civil Engineering Department, Swami Keshvanand Institute of Technology, Management and Gramothan, Jaipur on April 03, 2019. The visit was organized with the support of Er. Ravindra Mathur (Executive Engineer, Jaipur Development Authority) and Er. Sunil Soni (Junior Engineer, Jaipur Development Authority). The students of B.Tech. II year Civil Engineering participated in the visit.
CIVIL ENGINEERING QUIZ COMPETITION
Department of Civil Engineering organized a quiz competition for the students of II and III year on 17 September, 2019. The topic of the competition was Building Material and Construction. More than 125 students participated in this competition. The winners of the competition were announced during the Engineer's day celebration programme.
ENGINEER'S DAY CELEBRATION
Department of Civil Engineering in collaboration with Indian Concrete Institute and Indian Building Congress organized an expert lecture on "Non Destructive Testing" which was delivered by Er. Sunil Goyal (Founder, Prime Tech Design Consultants). This lecture focused on the maturity method of testing which is not widely used in India. The winners of quiz competition were also announced during this programme. Engineers from government bodies Er. Manish (JDA), Er. Sanjay Mathur (NWR), Er. Naresh Suhag (CPWD) were felicitated for their help during the In-house summer internship program.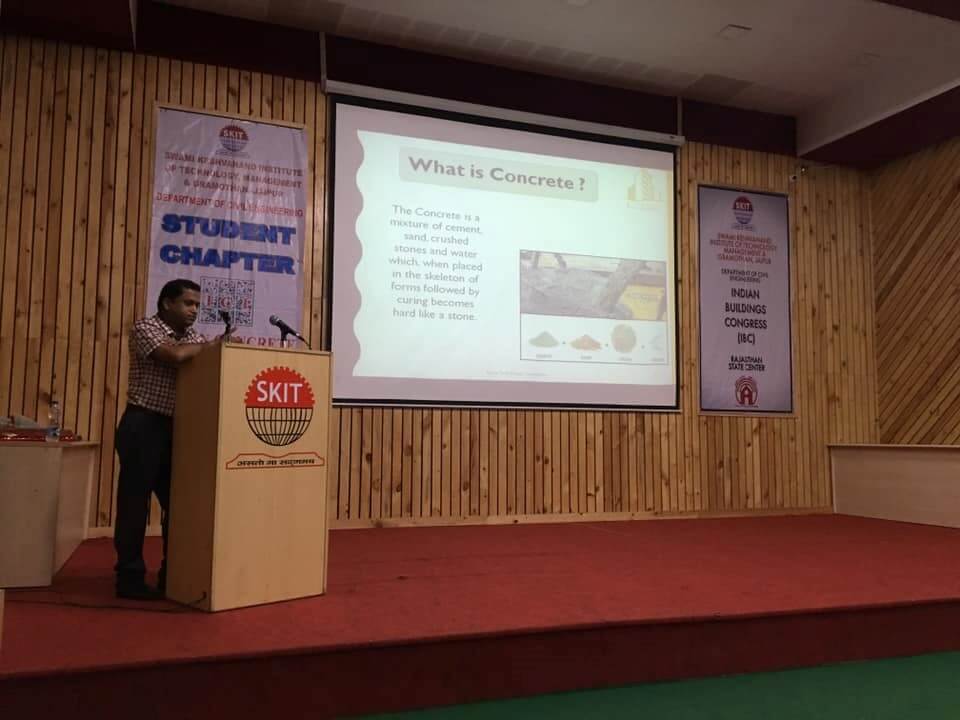 SEMINAR CUM INTERACTIVE SESSION ON "IMPORTANCE OF INTERNSHIP AND WAY AHEAD"
A seminar cum interactive session on "Importance of Internship and Way Ahead" was conducted by Student Chapter of Indian Concrete Institute (ICI) at SKIT on February 15, 2019.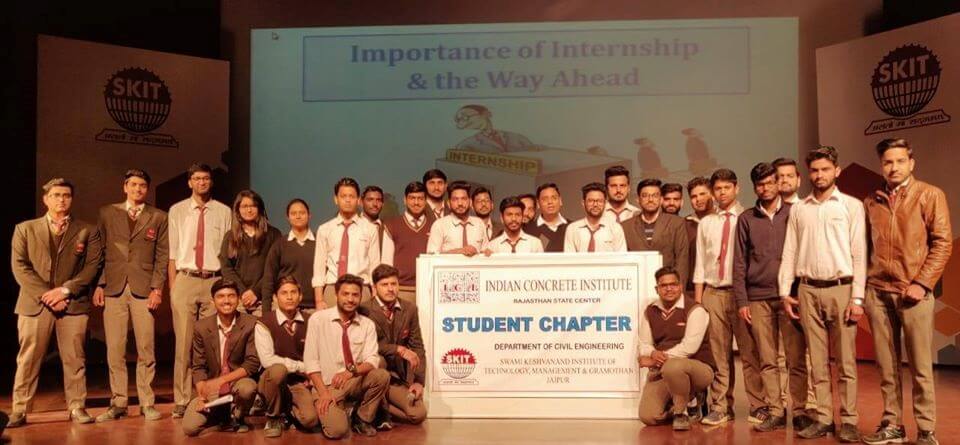 Ready Mix Concrete plant visit of Ultratech Concrete
A RMC Plant visit was conducted for students of ICI student chapter to Ultratech concrete in Sitapura.
Quiz Competition in Civil Engg. Department by Ultratech Cement:
 State Level Quiz Competition named "CON-Q" was organized by Ultratech Cement in Civil engineering Department on 8th February 2017. Around sixty engineering colleges from different regions of Rajasthan had participated in this competition at fourteen nodal centres. SKIT was the nodal centre for Jaipur region in which students from thirteen engineering colleges participated in the preliminary selection round. This event was coordinated by Er. Nishant Sachdeva, Assistant Professor (SKIT) and Er. Hemant Shrimali (Ultratech Cement).
Concrete Cube Competition by ICI Student Chapter
 A state level concrete cube competition was organized by ICI-Student Chapter of SKIT in association with Ultratech Cement. Around fifty teams from various engineering colleges registered for the event. Each team has designed three concrete cubes of target strength 30 kN/m2. The cubes were tested after 28 days of curing. This competition was headed by Er. Nishant Sachdeva (ICI Co-ordinator, SKIT) and Er. Kishan Lal Jain, Assistant Professor, SKIT.
SITE VISIT TO MULTI STOREY BUILDING IN SITAPURA UNDER ICI STUDENT CHAPTER
A site visit was conducted under the flagship of ICI Student Chapter of SKIT by Mr. Nishant Sachdeva and Er. Hemant Shrimali, Ultratech Cement at Sitapura, Jaipur.
In this construction, Autoclaved Aerated Concrete Blocks were used. These blocks are light weight precast concrete blocks which provide thermal insulation. The site visit was very beneficial for practical knowledge of students.