WEBINAR ON "UNDERSTANDING CEMENT TEST REPORTS" BY JK WHITE CEMENT
Department of Civil Engineering in colloboration with JK Sper Cement organized a technical webinar on "Understanding Cement Test Reports" on 13th May 2020. The lecture was delivered by Er. Pawan Y. Sethi (Zonal Head, JK White Cement Ltd.). More than 100 students attended the webinar which was organized on Google Meet platform. These kind of webinars will help the students to improve their technical skills during lockdown as well. All the attendees were provided with e-certificates by JK Cement Group.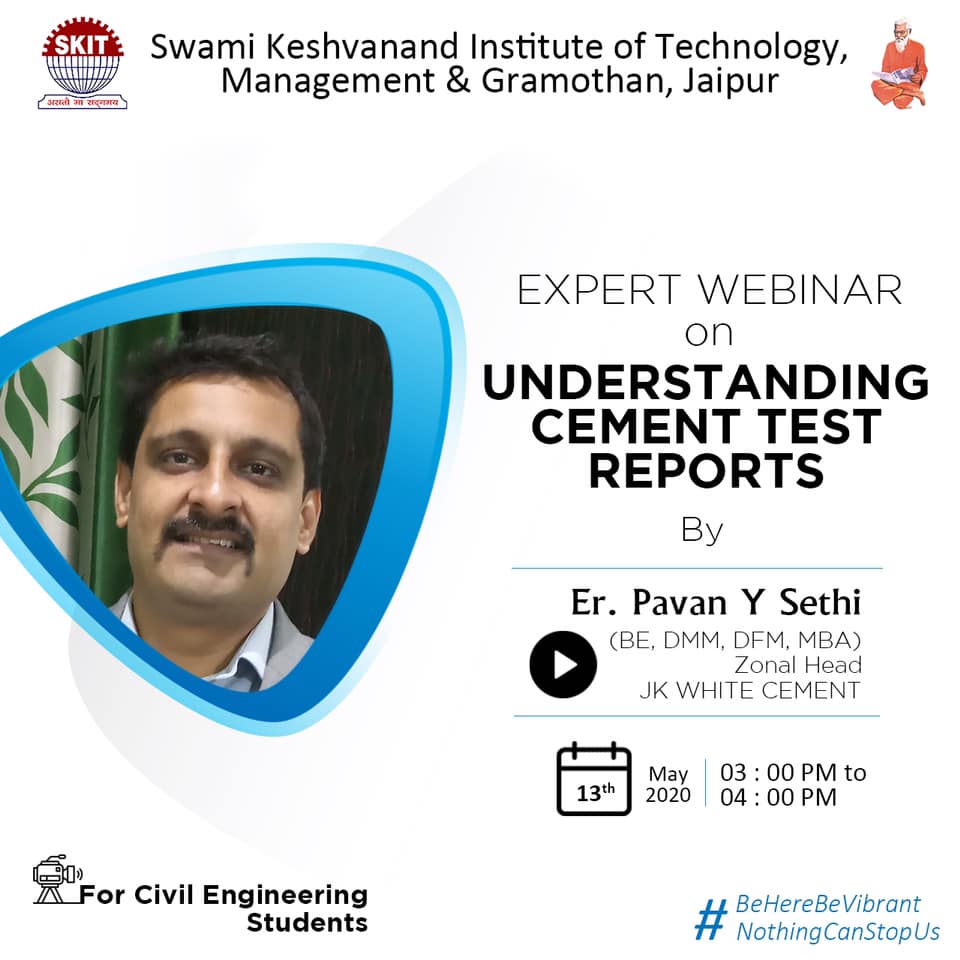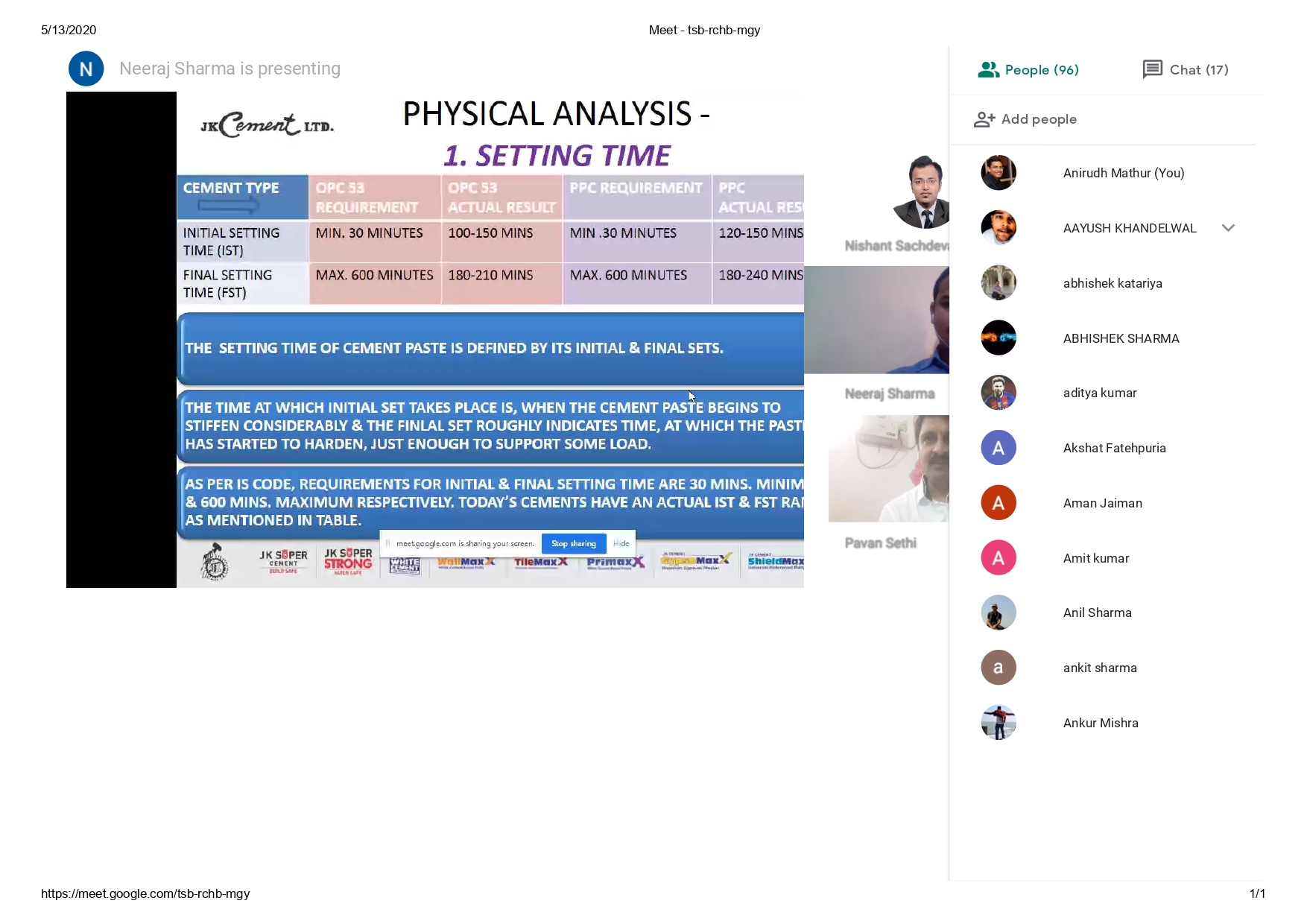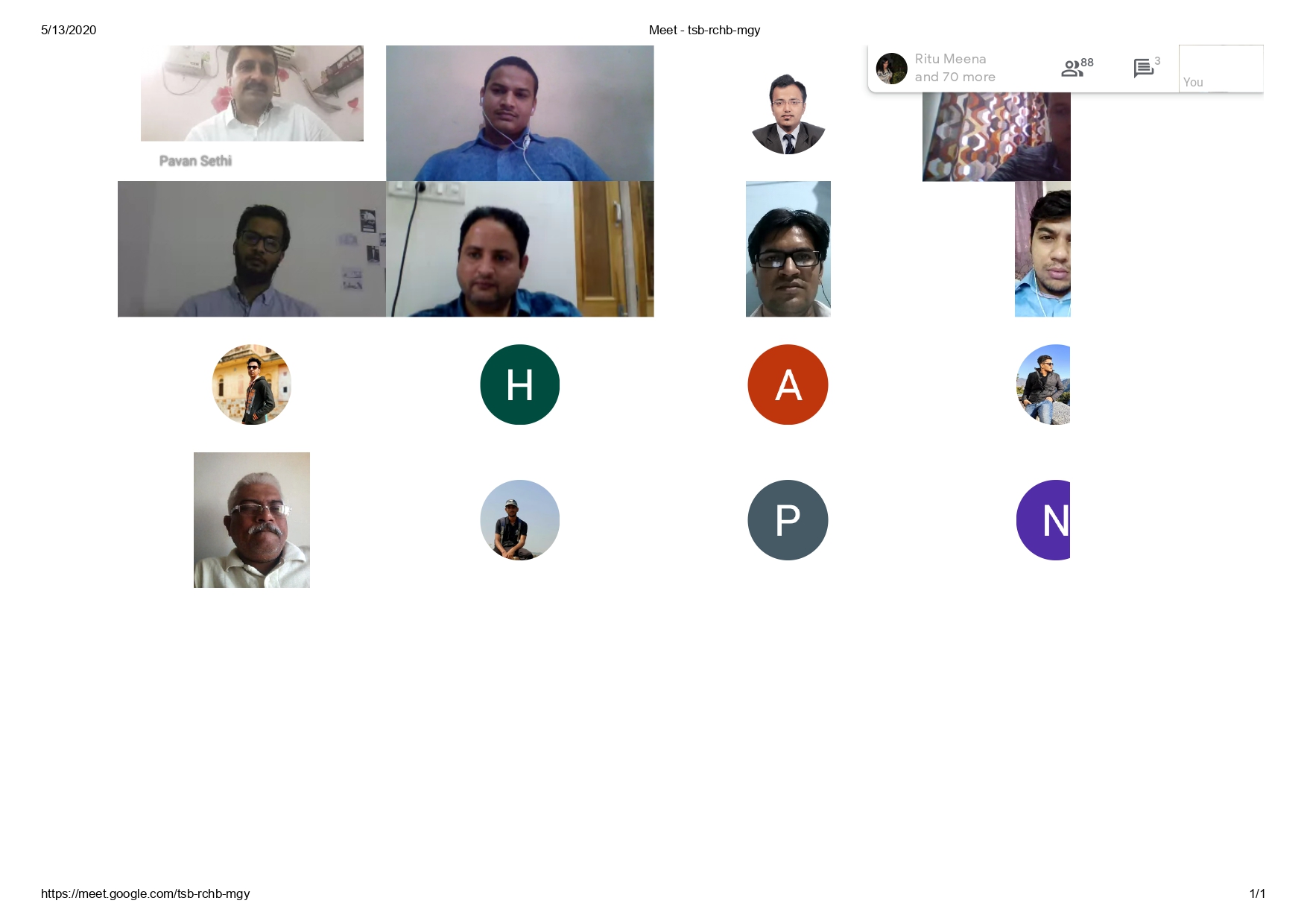 ORIENTATION PROGRAMME OF M-TECH (TRANSPORTATION ENGINEERING)
An orientation program for the first batch of M.Tech. in Transportation Engineering was conducted at Swami Keshvanand Institute of Technology, Management & Gramothan, Jaipur in association with Student Chapter of Indian Concrete Institute (ICI) on 03/08/2019. The event was graced by the presence of Er. Vikas Dixit (President, PWD Engineering Association, Raj.), Er. B.L. Rawat (CGM, CEG), Er. Akhilesh Gupta (SE, PWD), Er. Vinay Gehlot (Chairman, ICI-RSC), and Er. C.M.Raj Mathur (DGM, RSRDC).
The event began with a cordial welcome of the guests by Dr. S.L. Surana (Director-Academics, SKIT), Ms. Abba Meel (Advisor, SKIT), Dr. Ramesh K Pachar (Principal, SKIT), Mr. L.N. Datt (HOD, CE, SKIT) and Dr. Mukesh Gupta (Coordinator, M.Tech. SKIT). The welcome speech was delivered by the Director followed by a motivation talk by Er. Vikas Dixit. Er. B.L. Rawat shared his field experiences regarding Transportation Engineering. He discussed the scope of specialization in Transportation Engineering.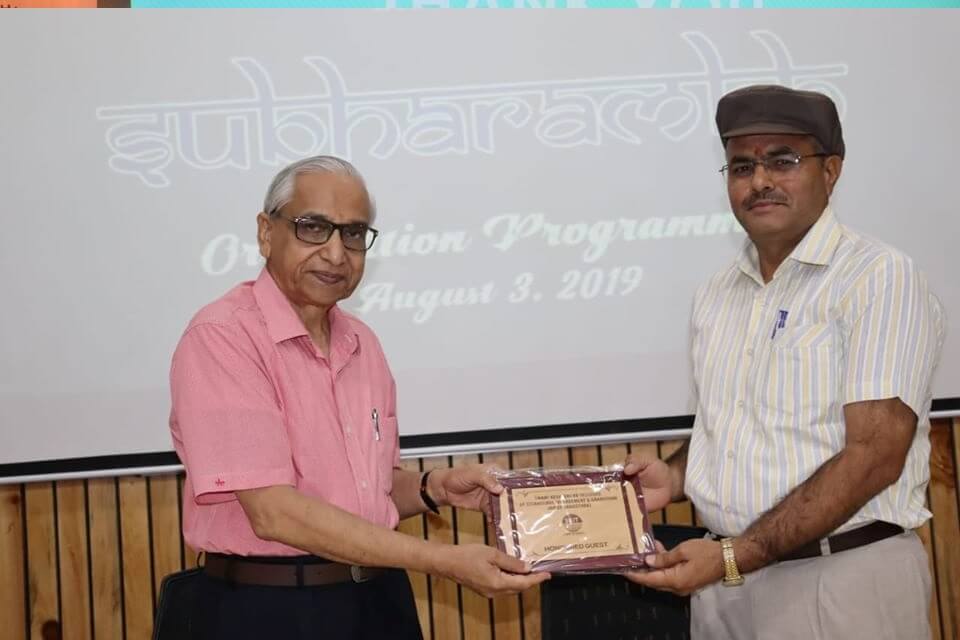 TECHNICAL SESSION BY JK SUPER CEMENT
A Technical session was organized by JK Super Cement on "Manufacturing of Cement and Physical Tests done on Cement" on January 30, 2019. Er. Sanjay Gupta (Zonal Head, JK Super Cement) and Er. Arvind Jangid (Rajasthan Head, JK Super Cement) gave the presentation.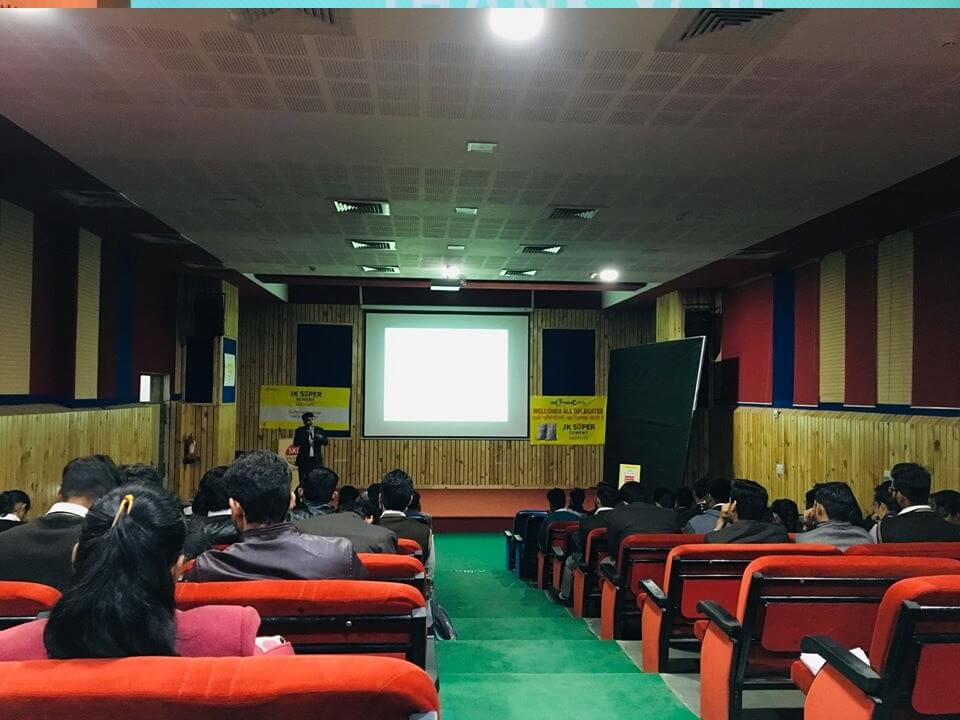 IN-HOUSE SUMMER INTERNSHIP PROGRAM
An initiative was taken by Civil Engineering Department, SKIT for the "In house summer internship program" for the third year students. The duration of this program was 60 days which constitutes both software as well as site training.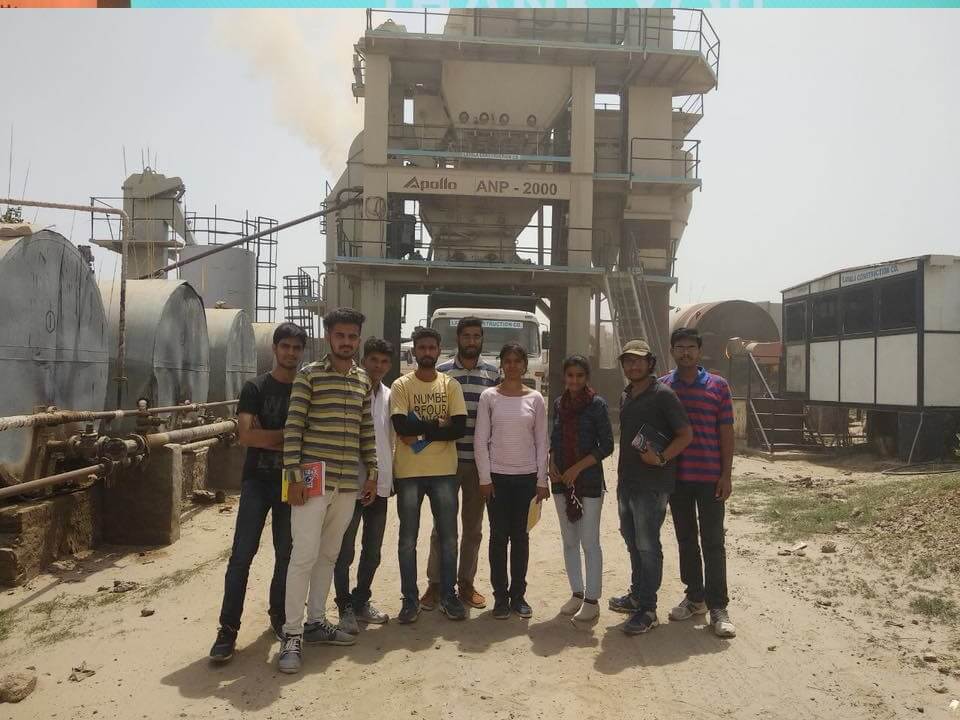 INTERACTIVE SESSION BY INDUSTRY EXPERTS
Department of Civil Engineering, SKIT had a pleasure to invite Mr. Saraj Kumar, Vice President (Projects), ARG Group for an interactive session on the topic "Project Planning and Construction Management in Indian Construction Industry".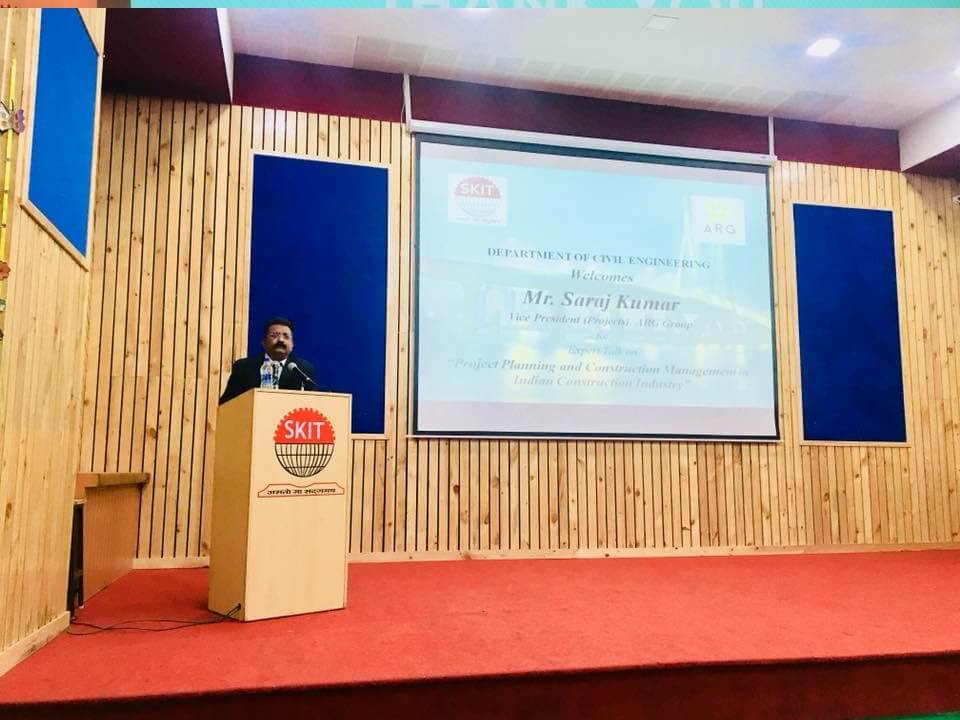 CIVIL ENGINEERING STUDENT AWARENESS PROGRAM
A Civil Engineering Student Awareness Program was organized by Civil Engineering Department in collaboration with JK Super Cement on 10th January 2018. Lecture was delivered by Mr. S.P. Arora, General Manager, JK White Cement Works. Topic of presentation was "Manufacturing and uses of White Cement". Students of 2nd and 3rd year attended the seminar.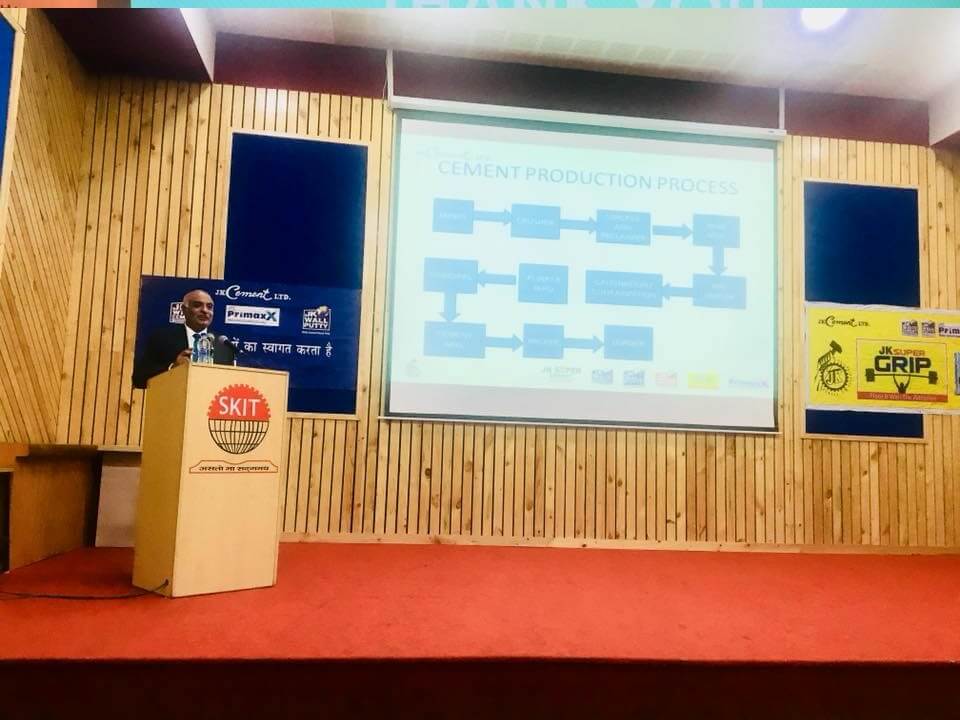 Celebrated Engineer's day
Engineer's day was celebrated in Civil Engineering Department. This event was sponsored by Ultratech Cement and supported by Indian Concrete Institute (ICI), Institution of Engineers (India), and Indian Institute of Architects (IIA).
Site Visit was organized by Ultratech Cement for students of Indian Concrete Institute
A site visit was organized by Ultratech Cement for students of Indian Concrete Institute-Student Chapter. Students learnt about latest construction techniques and materials used such as AAC blocks, pumping of concrete technique on-site testing of concrete, ready mix concrete etc.
Panel Discussion on "Smart Cities"
Students of Indian Concrete Institute-Student Chapter along with Mr Nishant Sachdeva attended Panel Discussion on "Smart Cities" and presentation on "White Topping and RMD Technology" organised by Ultratech Cement and Indian Concrete Institute-Rajasthan State Centre in hotel Royal Orchid on 14 March 2017.
Site Visit to Railway Over Bridge
Students of B-tech final year along with Dr. D.K. Sharma and Dr. Neha Shrivastava were taken to a site visit to railway over bridge, dantli, near Indra Gandhi Nagar, Jagatpura. Students saw piling technique, column casting etc. This site visit was very beneficial for practical knowledge of students.
Survey Camp for students of  III B.Tech VI semester
Department of Civil Engineering had organized the Survey Camp for the students of III year V Semester as it is included in their curriculum
The survey camp helped the students to learn about practical approach of the Surveying in the field such as Leveling, Triangulation, Plane table surveying, Chaining and Ranging.
Venue – Pooth Ka baas, Chandwaji, Ajmer Delhi Bypass. (Jan.19, 2014 – Jan. 23, 2014)
Faculty Coordinator – Dr. Kedar Sharma, Ms. Pooja Jain, Mr. Amit Kumar, Mr. Deepak Sharma, Mr. Manmohan Sharma