Sanrakshanam
The aim of this project is to save the energy. At the time when people are not present at the working place lighting can be made OFF and when people come to the area lighting can be made sufficiently brighter. The electricity is the vital element in the progress of a country. Electricity is required for our daily work purpose, industrial purpose, defense purpose, and in almost all the fields. So there is a need of huge amount of electricity. It has been estimated that a single unit of energy saved at the end use point is equal to 2.3 units of energy produced. As the generation of electricity is limited, so we require preventing the wastage of the electricity. Hence we presented here an intelligent system for preventing the consumption of electricity when it is not required.
Smart Shoes
The advancement in technology is increasing day by day and still requires new inventions to make life of people much easier and as engineers it's our prime duty to develop new technology to enhance the living standard. Every day, we hear about the smart technologies such as smart TV, a smart car etc., so why not smart shoe? Many people suffer from serious visual disability which is preventing them from working independently. Accordingly they require a tool of wide range which helps to make them independent. Smart shoe is simple and better option to help the blind in their orientation and train them to move on their own independently and safely depending on the other remaining senses. This project presents a prototype model and a system concept to provide smart electronic and aid for blind people. This system consists of Ultrasonic sensor, microcontroller and a wireless headphone. The project aims to develop an electronic kit to help blind people obstacle free path. If an obstacle comes in the path, an indication would be relayed by one ultrasonic sensor placed inside the shoe; this unit would take the instruction through the microcontroller, which will generate a sound in wireless headphone. A 9V dc battery is also installed in the shoe which gives supply to the circuit. The results were satisfying, where we can use the shoe up to one day, and the components can fit in the shoe as we are aiming to build a prototype with regular items.

The main objective of our project are-
To provide visual sensation to the blind people.
To provide high accuracy in detecting the obstacle.
DIGITAL WATER METERING
In this fast paced life water suppliers and consumers needs to introduce a new water system which is more efficient and comparatively quicker. Digital Water Meters are used to measure the volume of water used by residential and commercial buildings that are supplied with water by a public water supply system. Thus by using this we can keep monitoring on the usage of water by different consumers. Smart water meters are more efficient as there is no mechanical or moving part. The benefits of meter are that it can also helps to detect water leaks in the distribution network, thus providing a basis for reducing the amount of non-revenue water.
The main objective of our project is to make water supply more accountable and transparent which reduces the manual assistance, deliver secure and time efficient solution for the complex water system. Digital Water Metering System maintains the data base of the water usage by entering the data of water usage and bills can be dispatched electronically. Apart from grown countries, the water supplies in others present with a sensor which is operated electronically. In this project a GSM based billing system is provided. This is a system which leads to a continual hassle free water supply and billing gives maximum convenience to consumers and enhancement in water usage audit. Here we uses microcontroller ATmega328.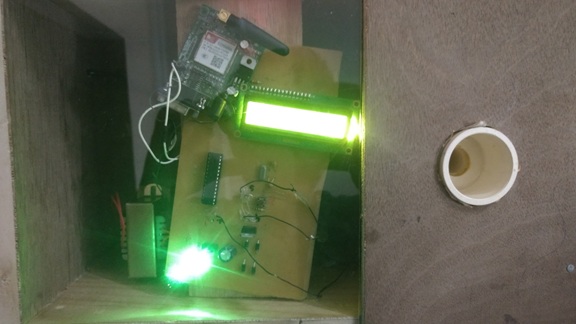 Major project developed / undertaken by the students
Vehicle Tracking system using GPS and GSM modem
Bhartiya intelligence traffic system(BITS)
Wireless power theft monitering system
Touch screen based home automation system
Motor speed monitors and control system using GSM modem with password protection
Hybrid Power System
Controlling of electrical equipment using mobile phone
Speed control of motor using PC
Reduction of distribution losses by using feeder reconfiguration
Detecting power grid synchronization failure sensing out on range of voltage or frequency(DST)
Synchronization detecting power Grid failure
Eigenvalue analysis on new England power system
MATLAB/Simulink-Based transient stability analysis of a multi-machine power system
DTMF Based load management system