Knowledge Corner
Finance & Account
General Management
Business Strategy
Contact Us
Adviser Industry Institute Partnership Cell:
Prof. M.L. Bhargava
Email: This email address is being protected from spambots. You need JavaScript enabled to view it.
Contact Number: 0141-5160400 Ext. 311
Training & Placement Officer:
Mr. Vineet Jain
Email : This email address is being protected from spambots. You need JavaScript enabled to view it.
Phone No : +91-9828655525
Landline No : 0141-5160400
Joint Head, Capacity Development Cell:
Dr. Amber Srivastava
Email : This email address is being protected from spambots. You need JavaScript enabled to view it.
Landline No : 0141-5160400 Ext. 247
MBA
Name of the Company/Industry
ABACUS Recruitmen Systems
Aircel
Ashoka Wealth Mangement
Barclays Shared Services Pvt. Ltd.,
Becon Insrurance Brokers Pvt. Ltd., Vadodara
Bharti Airtel Services Limited, Dehli
BMW
Club Mahindra
Colnovation Technologies
Desai Brothers Ltd., Pune
Elnahan Technologies
Genpact
Gtec
Havmor Info Designers Jaipur
Havmor Yellow Pages
HCL Infosystems
HDFC Bank, Mumbai
IBM Daksh
ICICI SECURITIES, Dehli
India Infoline
Infosys BPO
ISANGO, GURGAON
Kotak Securities Ltd., Mumbai
Lotus Education
Lupin
Maloo Finance
Max New York Life Insurance Co. Ltd, Gurgaon
Reliance Money
Resonance Builders
Serosoft Sotution Pvt. Ltd.,
Shree Bhartiya Pvt. Ltd
Shriram Transport Finance Company Ltd.,
Tele Performance
Vodafone
Wipro Limited, New Delhi (BPO)
Journey in Placement Cell
At SKIT, placement cell focus a lot on industry readiness of budding technocrats, other than the technical education Training and Placement department runs mandatory programs for students.
Typical Journey of a student in Placement Department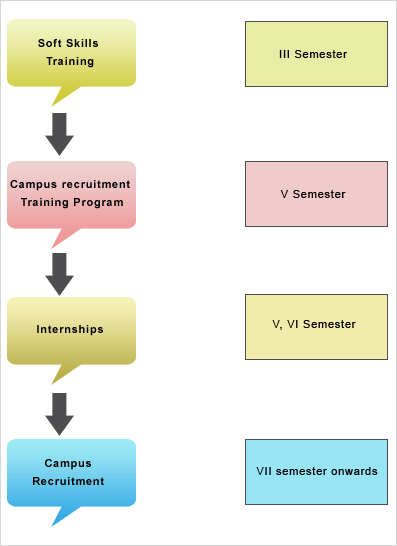 B.Tech
Name of the Company/Industry
A3Logics
11Techsquare Pvt. Ltd.
AAKG Group
Accenture
ACT Cryogenics
Adani Group
Aditya Birla Cement
ATCS
Agrawal Metal Works
Allen
Amdocs
Apollo Tyres
AppPerfect
Aptean
Asia Motor Work
Auriga IT
AurionPro
Axel Networks
B24 e Solution
BGR Energy Systems
Bhabha Atomic Research Centre
Bharat Heavy Electricals
Bharti Airtel Services
BigStep Technologies
Binary SoftZone
Birlasoft
BKT Tyres
Bosch
Busigence Technologies
Capgemini
Caritor India
Cognizant Technology Solutions
Collabera Technologies
Concierge
Converge-i Technologies
Crompton Greaves
CSC
Cyber Futurstics (I)
Cyber G. India
Daffodils
Data64
EA Sports
eClinical Works
Electrotherm India
Entity Solutions
Essar Steel
eWIZ Technology
Exl Service.com (I)
Finoit Technologies
Fiserv
FranConnect
G E Capital
GIPL
Genus power infrastructure
GirnarSoft
Global Logic Inc
Godrej
Grasim Cement
Green Mind
GVK EMRI
Havmor Info Designers
Havmor Yellow Pages
HCL BPO
HCL Comnet
HCL Infosystems
HCL Technologies
HDFC Bank
Hexacom India
Huawei Technologies
Hughes Communications India
IBM India
ICICI Prudential's
i-flex Solutions
i-flex Solutions
Impetus Infotech India
In Time Tech
Indian Air Force
Indian Army
Indian Military Academy
Info objects
Infogain India
Infoobjects
Infosys Technologies
Innoraft Solutions
InOpen Technologies
INTEC
Intelligence Bureau
Inter Globe Technologies
Intime Tec
ISMT Ltd.
iTG Software India
J.K. Cement
Kaizen Robeonics
Keysolution
Kirat Crafts
KJK Meister Honnen
Kyrion Digital Securities
L & T e-engineering solutions
L & T IES
L & T Infotech
L&T
Magna Infotech
Mahindra & Mahindra
Mahindra Satyam Computer Services
Mastek
Meditab Software
Metacube
MICO BOSCH
Mikuni India
Mircoland
Motion IIT
Mphasis
Nagarro
National Engineering Industries
Neerja Software
Net Cradle India
Nexpider
Nifty Innovations
NIIT Technologies
NR Switch and Radio Services
Oceanship maritime services
OnGraph Technologies
Onida TV
Optimusinfo Solutions
Oracle
Patni Computers
PC Suppo rt System
Persistent Systems
PharmARC
Priya Industries
Prowess Infosystems
Qed42
Rajcomp
Rathi Bars
Rave Technologies
Reliance Ind.
Royal Bank Of Scotland (RBS)
Saint Gobain Glass
Salora International
Samsung
SCHWING Stetter
Secure Meters
Serosoft Solutions
Sharpedge Learning
Shree Bhartiya
Solutions Digitas
Sopra Group
Startup Oasis
Sterling Telecom & Net Systems
Supportscape Enshore
Suzlon Wind International
Synergy Relationship Management Services
Syntel Inc
Syscom Soft tech
Tag Technical Services
Tata Consultancy Services
Tata Tiscon
Tech Mahindra
Teleperformance
Toluna India
Torry Harris Business Solutions
Trianz Inc
Ultratech Cement
US Technology
Uttam Galva Steel
Vatica Group
Vcustomer
Voylla Retail
Win Information Technology
Wipro BPO
Wipro Technologies
Zdrive Software
Zenith Softwares
Zensar Technologies
Zuberi Engineering Company