SKIT Research Journal
SKIT Research Journal is an interdisciplinary international journal. The aim of this journal is to publish research and review articles in rapidly developing fields. The journal includes research papers, review articles, technical projects and short communications containing new insight into any aspect of engineering, applied sciences, management and humanities. Authors are cordially invited to submit their original research work, review articles that are not published elsewhere. The aim of the journal is to provide fast publication of refereed, high quality original research Manuscripts in all areas of engineering and technology. The journal covers following disciplines (but not limited to):
Section A : Engineering disciplines :
Computer Science and Information Technology
Electrical Engineering
Electronics and Communication Engineering
Mechanical Engineering
Civil Engineering
Environmental Engineering
Industrial Engineering
Automobile Engineering
Section B : Applied Sciences :
Chemical Sciences
Mathematical Sciences
Physical Sciences
Section C : Humanities and Management :
English Literature & Language
Engineering Economics
Science & Technical Education
Management

Frequency: Bi annual ( Month of April & October )
Status:    Published Print/ Online

For more details visit http://www.ijskit.org/
Mr. Neelesh Misra, author, lyricist, screenwriter enthrals students at SKIT, Jaipur
Noted author, lyricist, screenwriter, journalist and an eminent participant at the prestigious Jaipur Literature Festival, Mr. Neelesh Misra visited SKIT, Jaipur on 24 January, 2013. Talking about his life and work, Mr. Neelesh Misra, recounted his life story. He told students of SKIT, Jaipur about the importance to follow one's heart and the need to think big.
Read more: Mr. Neelesh Misra, author, lyricist, screenwriter enthrals students at SKIT, Jaipur
TOPAZ- SKIT E-Cell sweeps awards at the NEN regional Grand Finale in Jaipur
Swami Keshvanand Institute Of Technology, Management & Gramothan, Jaipur has been awarded "Strong Capacity for Entrepreneurship" for running intensive Entrepreneurship Program on campus and FOR ESTABLISHING A STRONG AND SUSTAINABLE ECOSYSTEM FOR ENTREPRENEURSHIP DEVELOPMENT ON CAMPUS by NEN (National Entrepreneurship Network)- A Wadhwani Foundation initiative.  

 
Read more: TOPAZ- SKIT E-Cell sweeps awards at the NEN regional Grand Finale in Jaipur
SKIT M&G, Jaipur celebrates E-Week 2013 in association with NEN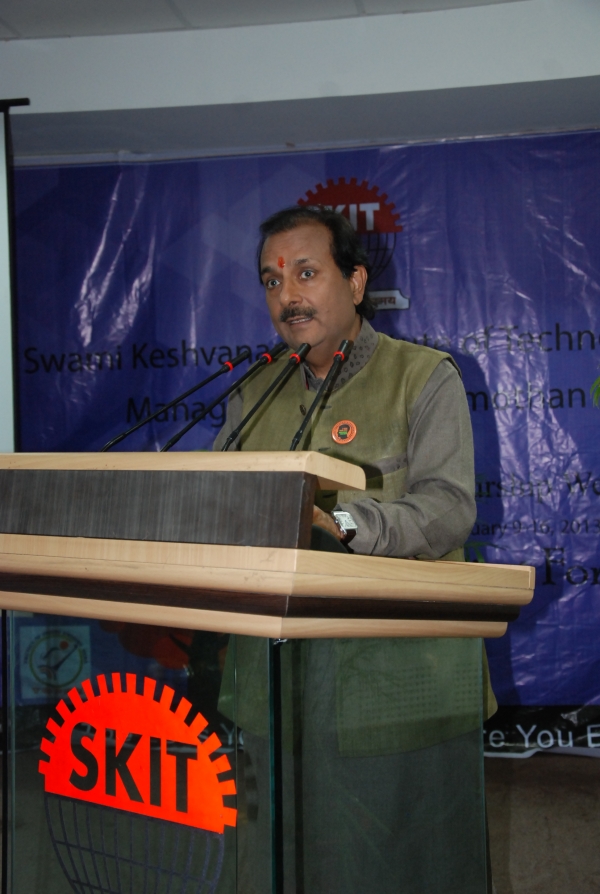 To boost entrepreneurship, SKIT, Jaipur, launched week long celebrations on and off campus- 'E-Week 2013' in association with NEN on 09 February. The celebrations were launched on campus by Mr. Naren Bakshi- well renowned Indian
Read more: SKIT M&G, Jaipur celebrates E-Week 2013 in association with NEN
SKIT in Media