OBJECTIVES
Encourage students to develop innovative projects/products to become job givers instead of job seekers through facilitation in opening start ups
Take up development of industry sponsored projects.
Encourage Faculty /students teams to conduct seminars/trainings on state of art technology platforms otherwise not covered in syllabus.
Collaborate with semiconductor companies like TI/FREE SCALE/ST/MICROCHIP to undertake embedded learning through embedded club activity.
Encourage amongst faculty/students C.F.T Culture for project development
Major Roles of Incubation centre
Infrastructure support : 

A strong intellectual infrastructure: A dedicated team from all departments for technical mentoring of the projects, laboratories.
Physical Infrastructure: internet, computers, dedicated area for sitting & working with working till 9 PM for passes out student batch and after 2:30 PM daily pursuing B. Tech students.

Entrepreneurs & entrepreneurs support mechanism: Create & working with entrepreneurial culture.
Support for commercialization: Regular mentoring of the teams for different commercial aspects, legal liabilities, government policies.
Funding: Generate funds for the teams.
Major Services of Incubation centre
Listing few of the service support from incubation centre.
Mentorships from Industry Professionals.
Connect with leading entrepreneurs.
12-24 weeks of co-working space in campus.
Office resources.
Prototyping & Product Development.
Connect with Funding Resources.
Student Semester Projects.
Intellectual Property and related advice.
Financial & Legal Consultants.
Business advice from our Program Partners.
Additional Programs for promoting such activities
Knowledge infrastructure support.
Student growth & better visibility programs.
Faculty development program to increase opportunity & participation.
Better visibility of college among peers.
Building reusable knowledge digital database.
Alumni connectivity.
Better placements.
Setting up process in SKIT
Project starting till one year after graduation
Monthly Progress review by development board
The prototype model will be funded by the team itself. 
*SKIT will fund for its engineered model 
*Trial production (before Mass production) by start-up with 50:50 equity by students & SKIT
IPR & patent rights by SKIT 
Company formation / expense be borne by students & SKIT on 50:50 basis. 
Patent filing expenses to be borne by SKIT
Test Facility: CAPEX to be created by SKIT.
People connected from SKIT to Knowledge network of incubation centre must be freed from other responsibilities other than teaching during their project guiding tenure & their engagement in any project will be rewarded as a appraisal. 
Profit loss partnership of 50:50 in-between SKIT & Start-up Company: For 1 year only.
And subsequently IP rights can be transferred after mutual discussion with either one time/Royalty/profit sharing etc.
Core Team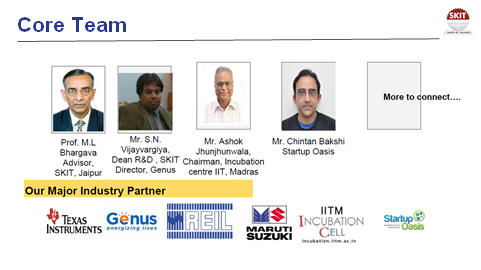 Start Up Themes
Green Technologies 

Solar Roof Top  (Already Start up - Arvind)
Solar DC Cooler (POC Ready: Field Testing)
Net Zero Pole (POC Ready in college campus)

Clean Technologies 

Smart Switch
Inhouse Trainer Kits

Embedded Technologies

Remote Management of devices (Developed for GENUS)
Solar SCADA  (Developed for GENUS)
Smart water, gas and electricity metering system(Under Development)

Industrial Technologies

3D Printer (POC Ready)
Industrial Training & tours (Already Start-up)
Achievements:
MSME Incubator Host Institute
SKIT has been recognized as Host Institute for implementation of the scheme "Support for Entrepreneurial and Managerial Development of MSMEs through Incubator" during Meeting of Project Monitoring and Advisory Committee (PMAC) held at New Delhi. Govt. of India is supporting business convertible ideas for Innovators, Start- Ups, Technocrats, Students, and MSMEs from all over India under the scheme of the Office of Development Commissioner – MSME, for 'Support for Entrepreneurial and Managerial Development of MSMEs through Incubators'. The Incubators / Host Institutions (HI) approved for the scheme will be supported by the Office of DC-MSME. Incubates selected ideas will be provided funding support in lakhs of rupees per approved idea, through the business Incubators chosen by them.
Atal Ranking of Institutions on Innovation Achievements 
Atal Ranking of Institutions on Innovation Achievements (ARIIA) 2020 has been released by Sri. M Venkaiah Naidu Honrable-Vice President of India. Swami Keshvanand Institute of Technology has got the 50+ ranking in the bend C category at National Level. Atal Ranking of Institutions on Innovation Achievements (ARIIA) is an initiative of Ministry of Human Resource Development (MHRD), Govt. of India to systematically rank all major higher educational institutions and universities in India on indicators related to "Innovation and Entrepreneurship Development" amongst students and faculties.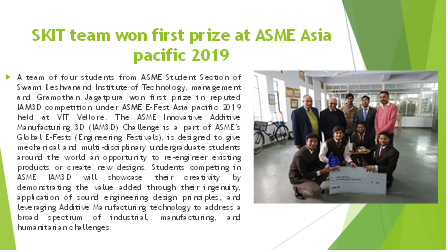 EVENT-AICTE VISHWAKARMA ZONAL AWARD 2020
EVENT DETAILS
| | |
| --- | --- |
| PROJECT TITLE | DECOCTION VENDING MACHINE |
| UNDER CATEGORY | Livelihood |
| ORGANIZER | AICTE |
| TOTAL NO. OF TEAM | 6100 (Approx.) |
| EVENT PLACE | Jagan Institute of Management Studies, Delhi |
| POSITION | WINNER-Regional North Level |
TEAM DETAILS
| | |
| --- | --- |
| TEAM NAME  | LEAFY |
| TEAM LEADER | Chandan Kumar Prajapati (16ESKME045) |
| CO-TEAM LEADER | Mahima Bhoi (16ESKEC048) |
| MEMBER 1 | Prageet Sharma(16ESKME121) |
| MEMBER 2 | Gaurav Chaudhary(16ESKME062) |
| FACULTY MENTOR  | Mr. Ajay Kumar Dhanopia(Associate Prof.) ME |