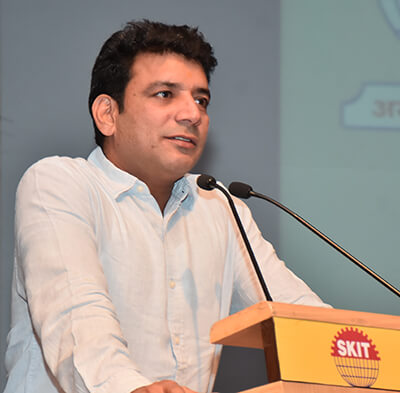 Jaipal Meel
Director
Welcome to global crossroads for learning and exploration. A place where ideas and imagination take flight in spectacular surroundings, a place to pursue your passions and sharpen your mind, a place which will discover your strengths and a place to hone your skills to make an impact on the world.
At SKIT, we teach our students to believe that nothing is beyond reach and that it should be our endeavour to be the best we can be and on all fronts. Academic excellence should exist alongside, and not in place of a happy and enjoyable college life, which should be busy, productive and above all, meaningful. Remember your education is more than preparing for a career; it's really about preparing for a life. That's why, at SKIT, we encourage you to pursue a variety of interests and passions, both inside and outside the classroom. It is an institution with a difference, an amalgamation of tradition and modernity, a blend of Indian and Western, a heritage of vision and a legacy of innovation.
An academic rigour, an exciting range of courses, excellent facilities and an enjoyable environment at SKIT gives the college an unrivalled status. We, as the stewards of learning, are dedicated to grooming and nurturing the young minds into world ready professionals. Through diverse disciplines and focus on innovation and research, we are committed to cultivate critical thinking and creativity, inspiring lifelong passion for intellectual discovery. We teach students to develop the habits and mind-set to realize their full potential. We are very proud of our record and especially proud of the talent shown by our graduates. They leave this institution and go into the world informed, inspired and savvy enough to pursue their dreams and thereby enrich our culture.
If you are intellectually curious, if you are determined, if you want to learn in and contribute to a multinational community of learners, if you want to earn a degree that will prepare you to work with people of all cultures and equip you for the careers of the future, I invite you to be part of SKIT, where learning has no limits.
OUR WORLD – YOUR WORLD