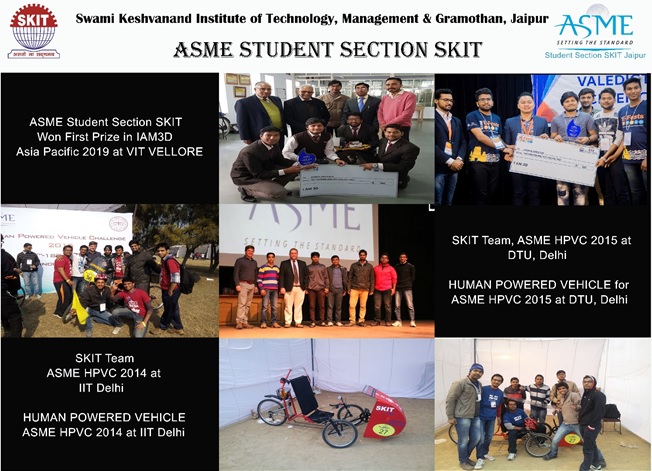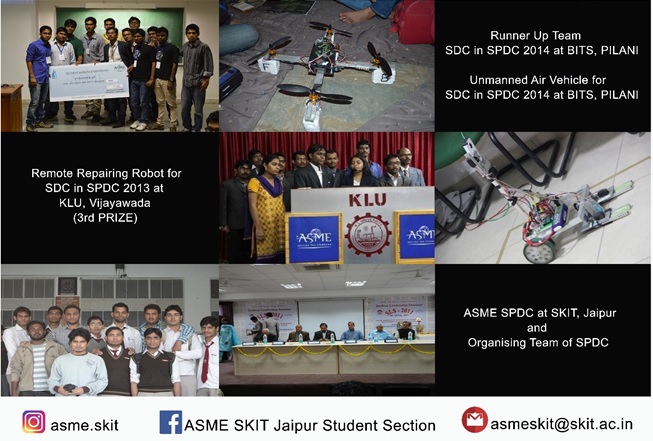 It is a not-for-profit membership organization that enables collaboration, knowledge sharing, career enrichment, and skills development across all engineering disciplines. Founded in 1880 by a small group of leading industrialists, ASME has grown through the decades to include more than 130,000 members in 151 countries.
About The ASME Student Section SKIT:-
• Was established in December, 2009
• To provide the Engineering students with the opportunity to enhance their knowledge of the technical world, showcase talent and network with professionals and other student members from all over the world.
• This student section has about 200+ student members at present.
Objective :-
To provide the Engineering students with the opportunity to enhance their knowledge of the technical world, showcase talent and network with professionals and other student members from all over the world.

Outcomes :-
• Certificate of membership
• Online access of resources
• Interaction with students of leading institutes
• Showcase of abilities through various competitions
Faculty Advisor:                                                                           Faculty Coordinator:
Dr. Manoj Kumar Sain
 Mr. Arun Beniwal
Associate Professor, Department of ME
 Assistant Professor, Department of ME
Email id:

This email address is being protected from spambots. You need JavaScript enabled to view it.

 Email id:

This email address is being protected from spambots. You need JavaScript enabled to view it.

Contact no. 9929289630
 Contact no. 9887102200
Student Coordinators:
Mr. Asit Jain
Mr. Arshdeep Singh Kalsi
B.Tech. 3rd year, ME
B.Tech. 3rd year, ME
Email id: 

This email address is being protected from spambots. You need JavaScript enabled to view it.

Email id:

This email address is being protected from spambots. You need JavaScript enabled to view it.

Contact no. 7732855624

Contact no. 7073468660 
Ms. Jancy C Joshwa
 
B.Tech. 3rd year, ME
 
Email id:

This email address is being protected from spambots. You need JavaScript enabled to view it.

 
Contact no. 9649363373

 
About Membership
Membership Joining Link (visit) : https://www.asme.org/membership/how-to-join
How to become a member(Video): https://www.youtube.com/watch?v=OVzrydrCb6c
Events Conducted & Achievements :
An online event "AutoCAD Applications in Engineering Graphics and Machine Drawing" was held on 14-02-2022 to 19-02-2022 Click here for more details
A Webinar on "Project Risk Management 2.0" was conducted on 22-09-2021 in collaboration with PIPM Institute Jaipur.
An on-line one-day Webinar on "Global and Indian Standards of Project Management" was held on 15-09-2021
An on-line one-day Webinar on "Life is a Project 2.0" was held on 12-09-2021.
An on-line one-day Webinar on "Basics of Primavera Software" was held on 04-09-2021.
An on-line one-day Webinar on "Practical Project Management" was held on 29-08-2021.
An on-line one Week Student Workshop on "Introduction to CAD & its Applications" was held from 16-08-2021 to 21-08-2021
An on-line one-day Webinar on "Importance of Commercial Acumen of in Project Management" was held on 15-08-2021
An on-line one-day Webinar on "Learn Comply Develop" was held on 14-08-2021
An on-line one-day Webinar on "Triple Constraints of Project Management" was held on 08-08-2021
An on-line one-day Webinar on "Adaptive Leadership in Project Management" was held on 01-08-2021.
An on-line one-day Webinar on "Why do Projects Fails" was held on 25-07-2021.
An online "Automotive Quiz" was held on 24-07-2021.
An on-line one-day Webinar on "Competences of a Project Management" was held on 18-07-2021.
An on-line one-day Webinar on "Soft Skills in Project Management" was held on 11-07-2021.
An on-line one-day Webinar on "Importance of Vlogging" was held on 10-07-2021.
An project idea were selected for the grand finale of Toycathon-2021 (Competition to promote 'Make in India' toys under the Innovation Cell, MoE, GOI ). The idea is to make a toy (tractor) integrated with different agriculture equipments to aware traditional farming.
A One day Webinar ON "Life is a Project"  was conducted on 20-06-2021 in collaboration with PIPM Institute Jaipur.
A One day online Workshop on  "PHOTOSHOP" was conducted on 23-01-2021.
An induction program "ASME : Introductory Session " was conducted for 1st year students on 09-10-2020.
"MAD4CAD Design Competition" was organized on 26-02-2020 in PRAVAH-2020.
A One day workshop on "CFD Using Ansys Software"  was conducted on 11-09-2019. Mr. Tarun Singh (CadEasy Jaipur) delivered a case study on "Aerodynamic testing of car".
"Awareness to Mechanical CAD Softwares" a session organized on 28-08-2019. In addition, a hands-on practice for "Design of Nut and Bolt" using Auto CAD software was also done.
"ASME Registration cum Planning Session" held for freshers on 14-08-2019.
"Team Selection for HPVC" a pre-qualifier based upon MCQ Quiz held on 17-07-2019.
A "Quiz Competition" held on 03-04-2019.
"Briefing about Competitions under ASME E-Fest Asia Pacific-2019" on 16-10-2018 in general student section meeting.
PPT on IAM3D (Innovative Additive Manufacturing by 3D Printing) Competition under ASME E-fest held on 10-10-2018 in general student section meeting.
PPT on HPVC (Human Powered Vehicle Challenge) Competition under ASME E-fest held on 03-10-2018 in general student section meeting.
"TECHNORION 2K18" Zonal TechFest IIT Bombay organised on 30-09-2018 in collaboration with ASME Student Section SKIT & Robotics Club.
Election for ASME Student Section Office Bearers 2018-19 held on 26-09-2018
"Registration cum Planning Session " conducted for 1st year students on 19-09-2018.
"Automation 2018" an event organized on 20-02-2018 in Pravah 2018.
A hands-on session on "Structural and CFD analysis using ANSYS"  was held on 04-10-2017.
"TECHNORION 2017" Zonal TechFest IIT Bombay organized on 02-10-2017 in collaboration with ASME Student Section SKIT & Robotics Club.
Old Guard-Oral Presentation on Sustainable Development held on 27-09-2017.
"Automation 2017" an event organized on 15-17 Feb., 2017 in Pravah-2017.
"TECHNORION " Zonal TechFest IIT Bombay organized on 02-10-2016 in collaboration with ASME Student Section SKIT & Robotics Club.
Independence Day Quiz Competition held on 15-08-2016