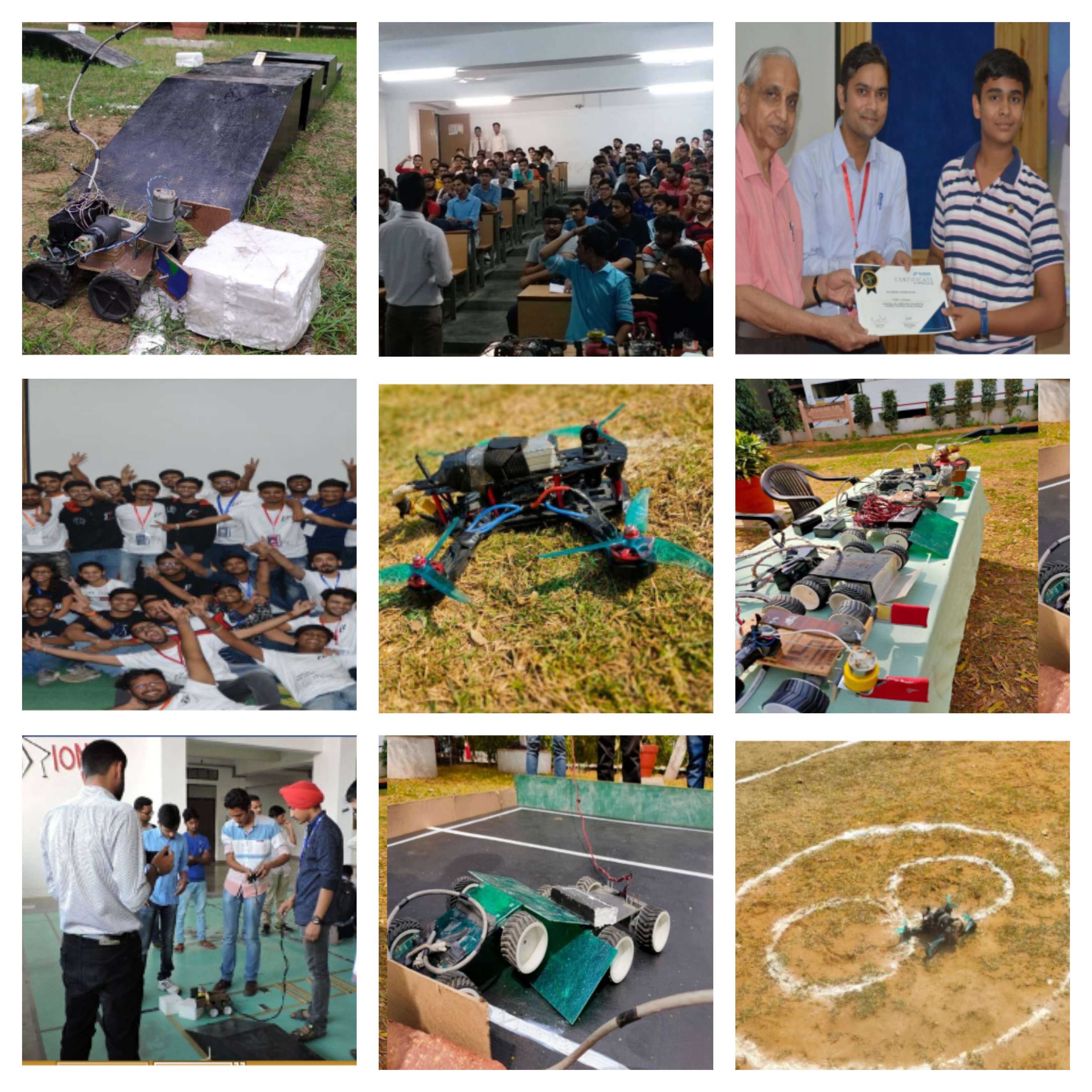 The Robotics Club is a community of students who derive pleasure in creating robots that may even be capable of working without human intervention. Each member of this family is provided insight into mechanical engineering, basic electronics and informatory aids besides the indispensable guidance of experienced members. The club supports and fosters interest in various aspects related to robotics in particular, mechanical design through workshops and projects. Robo-geeks are provided with a workspace, tools and other amenities to let their imagination loose.
Faculty Coordinators
Mr. Brijmohan Sharma
Mr. Sudesh Garg
Assistant Professor, Department of ME
Assistant Professor, Department of ME
Email id:

This email address is being protected from spambots. You need JavaScript enabled to view it.

Email id:

This email address is being protected from spambots. You need JavaScript enabled to view it.

Contact no. 9571463814
Contact no. 9024693951
Student Coordinators
Saksham Bhalla
Keshav Gautam
Jayesh Vashishtha
B.Tech. III year, AI
B.Tech. III year, AI
B.Tech. III year, ECE
Email id:

This email address is being protected from spambots. You need JavaScript enabled to view it.

Email id:

This email address is being protected from spambots. You need JavaScript enabled to view it.

Email id:

This email address is being protected from spambots. You need JavaScript enabled to view it.

Contact no. 9314038196
Contact no. 97878004286
Contact no.  9887487871
Prashansha Khandelwal
B.Tech. III year, ECE
Email id:

This email address is being protected from spambots. You need JavaScript enabled to view it.
Contact no.: 9587637403
About AICTE-Scheme for Promoting Interests, Creativity and Ethics among Students (SPICES): 
It is a scheme in which financial assistance is provided by AICTE to support Student Clubs for Promoting Interests, Creativity and Ethics among Students.
Robotics Club, SKIT Jaipur is thankful to the AICTE authorities to provide this grant (Sanction letter). This financial support enabled us to improve the infrastructure of Robotics Club and skills of students by participating in number of activities sponsored by SPICES.
Activities conducted under SPICES
Activities conducted under Robotics Club
Zonals of IIT Bombay Techfest (offline-Mode) was conducted on 09 October, 2022.
Robotics Workshop (offline-Mode) on LFR and Pick and Place Robots was conducted on 19 September, 2022.
Workshop and Training Programme on PLC and Its Applications was conducted from 23 March 2022 to 24 March 2022.
Mentorship and Training Programme on Tortoise Robot and ROS was conducted from 6 March 2022 to 7 March 2022.
Workshop and Training Programme on Humanoid Robot: "Concept and Development" was conducted from 24 February 2022 to 25 February 2022.
One Day Workshop on Arduino and Its Applications was conducted on 12 February 2022.
Online training on "Drone" was conducted from 1 February 2022 -5 February 2022.
"Ideathon" an online event was conducted on 12/08/2020.
"Drone from scratch" an online Workshop was conducted on 20/05/2021.
An online workshop on Arduino was conducted on 28/06/2021.
Online sessions related to Robotics, Drones etc. were conducted throughout the session 2020-21 on regular basis.