Electronic Instrumentation Workshop
The laboratory focuses on Identification and testing of different elecronic components. This lab deals with design and fabrication of PCB for different electronic circuits.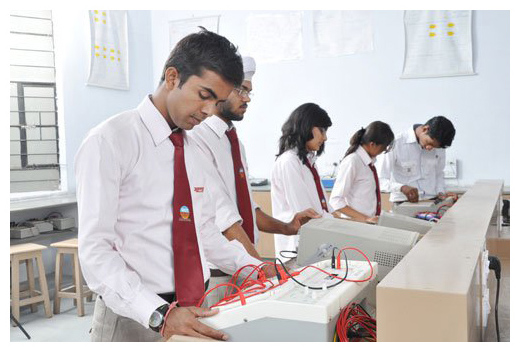 Electronic Device Lab
The lab is focused on  students so that they can learn basics of electronic circuits and their basic operations. Some of the experiments of Lab include characteristics of diode, transistor, JFETs.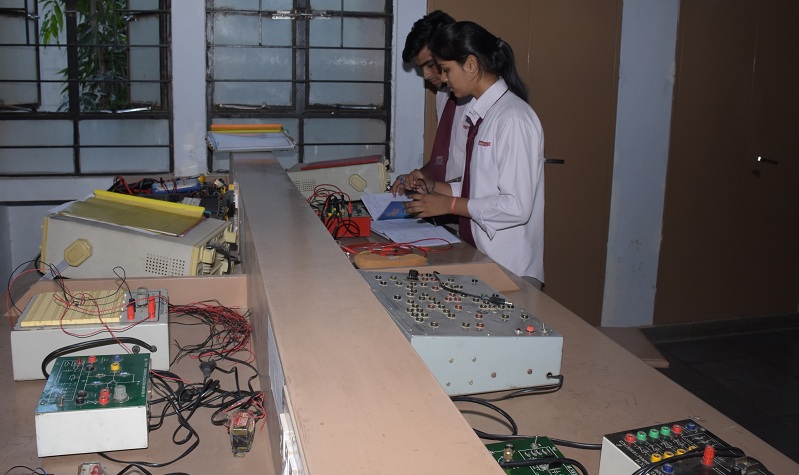 Digital Electronics Lab
The laboratory has digital trainer kits, 8/16 bit micro controller, Universal programmer for EPROM/EEPROM are available.
Measurement & Instrumentation Lab
The laboratory has various transducer kits for temperature, strain, displacement and angular velocity measurement. It also has various bridges for capacitance, inductance and frequency measurement.
Electronic Engineering Design Lab
The lab is mainly concerned in designing different electronic circuits' like amplifiers, oscillators, generators, filters and multivibrators. Students are encouraged to design different circuits with different set of parameters
Microwave Engineering Lab
It focuses on both the theoretical and experimental aspects of antennae; electromagnetic theory; electromagnetic wave scattering; active & passive microwave and millimeter wave circuits; microwave wireless communications; wavelet technology and micro-strip antennae.
Communication Lab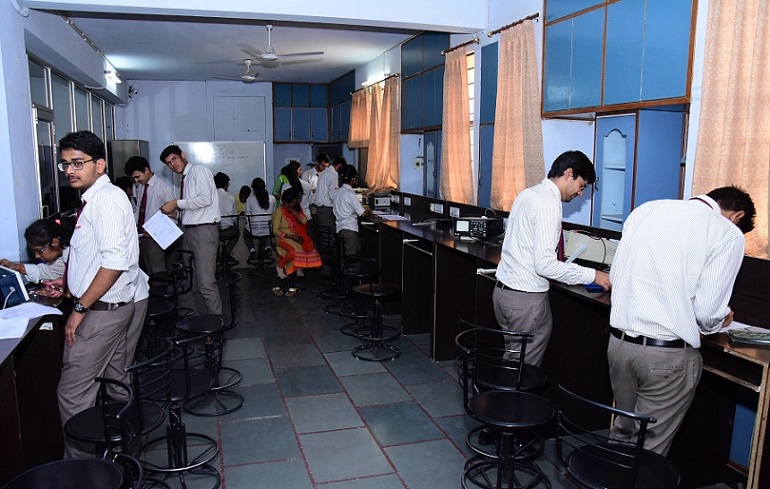 It focuses on both the theoretical and experimental aspects of communications. In this lab, the process of modulation is understood. How signals are sent over long distances. It consists of CROs, AM Kit, FM kit, sampling and holding kit, PAM, PPM, PWM experiments. The process of transmission and reception of signals through satellite are also understood.
Signal Processing Lab
In the software component, students carry out a number of computer experiments written in MAT-LAB, illustrating some of the fundamental concepts and applications of digital signal processing, such as quantization and sampling, block processing by convolution, real-time filtering on a sample-by-sample basis, signal enhancement and noise reduction filters, direct, canonical, and cascade realizations of digital filters, spectral analysis by the DFT and FFT, and the design of FIR and IIR digital filters.
Microprocessor Lab
It focuses both the theoretical and experimental aspects of micropocessor.Iin this lab we understand the assembly language programming. It also includes interfacing of different cards like 8255,8253, 8257,8259 ,stepper motor card etc.
Rf Simulation Lab
RF simulation lab is performed on the HFSS software. In this Lab, students design the transmission line of microwave ranges, couplers n dividers, Filter circuits for RF Range. They also become familiar about behavior and characteristics of RF range circuits and lines. They also learn to fabricate RF based transmission lines and circuits.
Power Electronics Lab
The lab is focused on  students so that they can learn, design, test industrial electronics circuits like SCR and its triggering, AC voltage regulators (TRIAC, DIAC and Thyristor), different types of Converters (Bridge converter, cycloconverter, dual converter) , PWM inverter, buck, boost and Buck-boost regulators. Students can perform speed control of DC motor using a chopper and induction motors using single phase AC voltage regulator along with open loop & closed loop motor control. Designing, selecting and applying appropriate circuit will be a life-long learning for students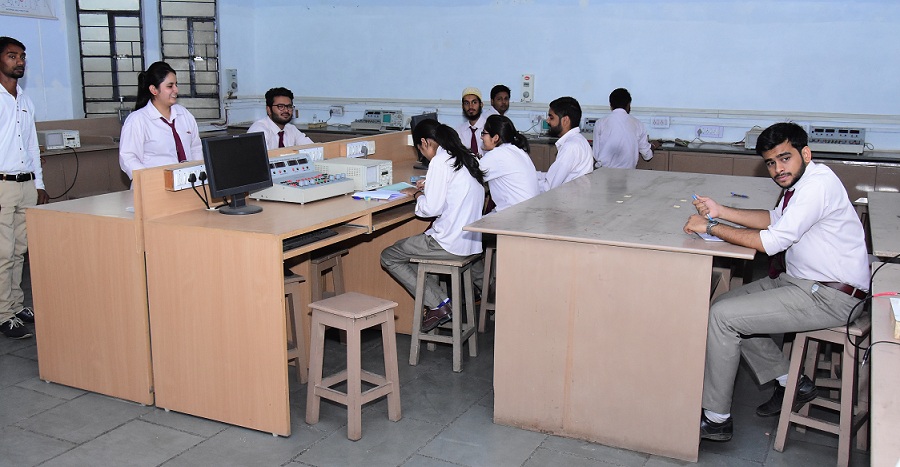 Wireless communication Lab
This lab allows students to use all levels of the overall system design, including hardware, communication link design, wireless networking, distributed sensing, communication, and control, and cross-layer design. In addition, synergies between the hardware, link, and network designs must be exploited in order to meet the demanding performance requirements of these future systems.
VLSI & Optical Fibre Lab
VLSI design lab has been set up in the department to give full exposure of their technique to the students. VLSI design helps in miniaturization and hence increases equipment density, increases system reliability, improves function performance along with reduction in power consumption.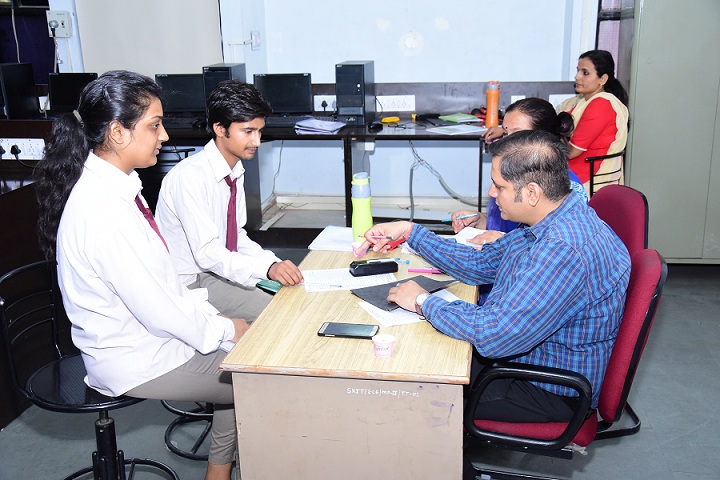 R&D lab
Project Lab allows students to use basic hardware facilities, various electronic & mechanical tools and measuring instruments, required during their project completion work. Technical guidance is provided by project in charge and well trained lab professionals. This lab is extended to carry out R & D projects in signal processing, Embedded systems and other microprocessor based systems.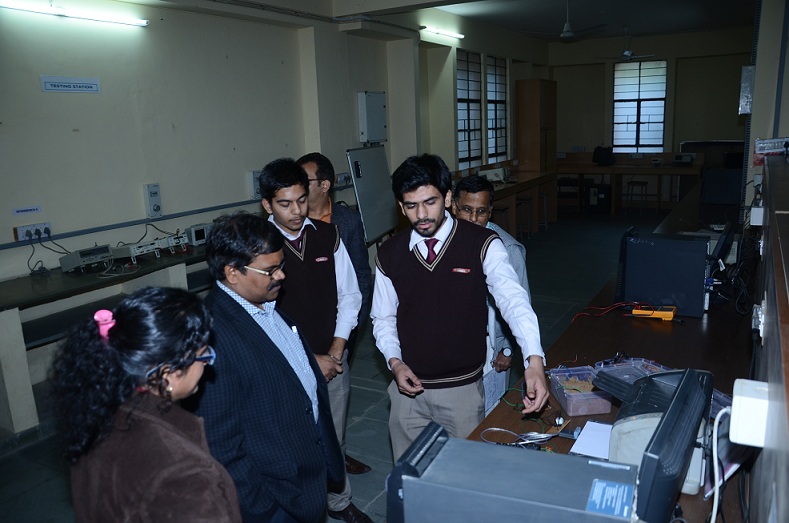 Research Lab
The department is also distinctive for research style, educational programs, commitment to diversity, culture and industrial collaboration structure. In this lab, many research activities have been carried out in  recent trends or latest development in the diverse field of ECE.
M.Tech. Lab
This Lab is dedicated to the students of M.Tech. Students to carry out their dissertation work. Some Advanced software and state of art tools and Lab equipments are available in this Lab