One Day IETE Zonal (North) Seminar and ISF Zonal Congress on "Advances in Electronic Circuits and Systems" organized by IETE Rajasthan Centre Jaipur in association with SKIT JAIPUR
Date: April 21, 2018
The Institution of Electronics and Telecommunication Engineers Rajasthan Centre, Jaipur has organized one day Zonal seminar and ISF Congress on "Advances in Electronic Circuit and Systems" on dated 21st April 2018. IETE President Prof. (Dr.) K. T. V. Reddy was Chief Guest of the program and IETE Treserure Col. Balrajanand was the guest of honor. The inauguration ceremony of the event was started by lamp lightening and Unveiling of Souvenir of the technical papers by :
Prof. K.T. V. Reddy
Prof. S. Pal, Col. Balrajanad
Dr. Ghanshyam Singh (Chairman IETE, Rajasthan centre),
Prof. S. L. Surana(Director Academics, SKIT),
Dr. S. K. Kalla (Director D&W, SKIT)
Prof. S. K. Bhatnagar (HOD-ECE, SKIT).
There were two technical events in this seminar. First half of the event was for the invited talks. Two experts were invited for deliver their talks Prof S. N. Sharan, Director, SEEC, Manipal University, Jaipur and Prof. (Dr.) Mahesh Bundele, Secretary, IEEE Rajasthan Subsection. Prof. S. N. Sharan delivered their talk on various energy harvesting methods and Prof. Mahesh Bundele discussed about the neural networks.
After the lunch break, ISF Congress and Innovation Meet of students and participants with IETE experts were completed. In the ISF congress many projects were displayed by the student's members. And the winner groups were honored by the certificates and prizes. In innovation meet students discussed about the novel ideas for the research.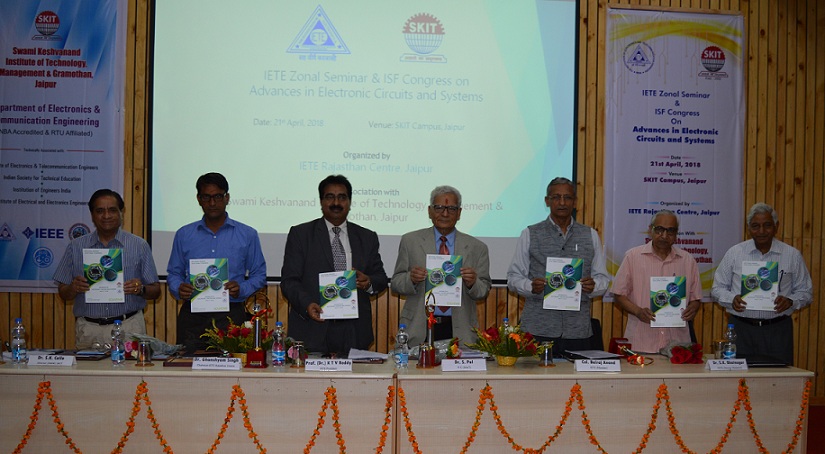 Tutorials and the National conference on "Advancement in Nano-Electronics and Communication Technologies" (ANCT-2017) organized by The Department of ECE
Date: February 9-11, 2017
Advancement in Nano-electronics and Communication Technologies (ANCT-2016)
Date: March 17-19, 2016