International Conference on New and Renewable Energy Resources for Sustainable Future is being organized by Department of Mechanical Engineering, Swami Keshvanand Institute of Technology, Management & Gramothan, Jaipur (India) from 2nd to 4th February, 2017.
ICONRER-2017 aims to provide a platform where scientists, researchers, academicians, industry experts, new aspirants, as well as students of science and technology can come together and engage in fruitful exchange of views and ideas to pave way for "New and Renewable Energy Resources". The scope of this conference encompasses latest research outcomes pertaining to the "Energy" domain in the form of theoretical models, environmental impact, security and defense technology, innovative designs, enhancements and improvements in existing frameworks, sustainable technological advancement, societal welfare etc. Thus the conference intends to bring together the best minds from around the world to cover literally all aspects of energy technology from a multi-disciplinary perspective
For more information : Please visit conference website

We are also extremely happy in sharing with you the news that Inderscience Publishing house has agreed to release special issues for selected papers from our conference in two of their journals:
(i) Int. J. of Renewable Energy Technology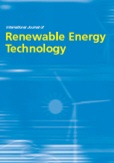 (ii) Interdisciplinary Environmental Reviews.