SAE India is an affiliate society of SAE International, registered as an Indian non-profit engineering and scientific society dedicated to the advancement of mobility community in India. As an individual member driven society of mobility practitioners, SAE India comprises members who are individuals from the mobility community, which includes engineers, executives from industry, government officials, academics and students.
SAE India organizes international meetings and exhibitions each year that cover all aspects of technology related to design, manufacture, and total life cycle technology for the automotive, aerospace, off-highway, truck and bus, fuels and lubricants, and other related mobility industries. These events bring engineers and technical experts from around the world together to share information and network.
SAE India organizes a variety of competitions every year for engineering students across the country namely SUPRA SAE India Student Formula, Baja SAE India and EFFI Cycle.
SAEINDIA SKIT COLLEGIATE CLUB
The club was started in 2011 and restarted in January, 2014 with 52 student members in mentorship of Mr. Jaipal Meel, Director, SKIT & Dr. Ashish Nayyar, Chief Faculty Advisor, Department of Mechanical Engineering. Since then it has achieved more and more through the consistent hard work and dedication by its student members. The collegiate club currently has a total of 150 student members from different streams of engineering of SKIT and six faculty advisors viz. Mr. Rajendra Singh Chundawat, Mr. Yogesh Kumar Sharma, Mr. Sudhanshu Chajjed, Ms. Monika Khurana and Mr, Chandan Kumar from Department of Mechanical Engineering. The Collegiate Club students participate in various vehicle design, fabrication and testing events in the name of Team Xcelerators ( a group 40+ students under three different teams for various events viz. BAJA SAEINDIA, National Go Kart Racing, International Go-Kart Racing etc, International Kart Racing Championship).
Team Xcelerators is the official motorsport racing team of Swami Keshvanand Institute of Technology, Management & Gramothan, Jaipur. It operates under the aegis of SAEINDIA Swami Keshvanand Institute of Technology Collegiate Club.
The purpose of the Collegiate Club is to provide its members opportunities to gain broader insight into the engineering profession by sponsoring meeting that will bring practicing engineers to the campus, arranging field trips to research and engineering establishment, sponsoring student projects of engineering interest, and participating in SAE India section activities. Designing gives members experience with computer aided designing which may be used after college in their professions. Likewise, the fabrication of the vehicles teaches student members teamwork, and how to use different tools and machines during the fabrication of various projects and most importantly how to implement a concept from idea to design to physical product. It provides continuity to engineering education and provides exposure to industrial operating environment and working conditions.
Journey so far…………….
1. Enduro Student India ATV Design Competition
An All Terrain Vehicle design challenge for student across India, organized by Delta Inc. This was the fifth edition of this event. A team of 30 student members, XCELERATORS, participated in this event from our institute. This event organized from 3rd – 7th January, 2018 at Coimbatore, Tamil Nadu. In the debut year of participation in ESI 2018, our team managed to secure some AIR among 80 participating teams which are mentioned below.
3rd in Maneuverability
4th in Overall Dynamics
4th in Endurance Race
16th in Sales Presentation
17th in Design Event
4th Rank Overall in ESI 2018

| | |
| --- | --- |
| ESI 2018 | ESI 2018 |
2. BAJA SAEINDIA 2018
BAJA SAEINDIA is one of the most popular and toughest Off-road motorsport event in India conducted under the aegis of SAEINDIA(Society of Automotive Engineers India),Mahindra & Mahindra and hosted by NATrip (National Automotive Testing and R&D Infrastructure Project). The Event is divided into two phases which are:
The team of SKIT is participating in this event since 2014 and continuously improving performance year by year.
3. Jaipur Street Karting Cup orgnaised from 15th-17th March, 2018 at Arya College of Engineering, Jaipur.
Team of SKIT won awards in following categories:-
Best Design – I prize worth of Rs. 10,000 /-
Second position in SKID PAD worth of Rs. 10,000 /-
Overall 4th position worth Rs. 10,000/-
4. SAEINDIA National Student Convention- 2018 organised on 16th Feb, 2018 at Arya College of Engineering, Jaipur.The student team of SKIT secured first rank in Quiz Competition worth cash prize of Rs. 3000 /-
Jayesh Soni - I year, ME
Rishabh Rao – II year, ME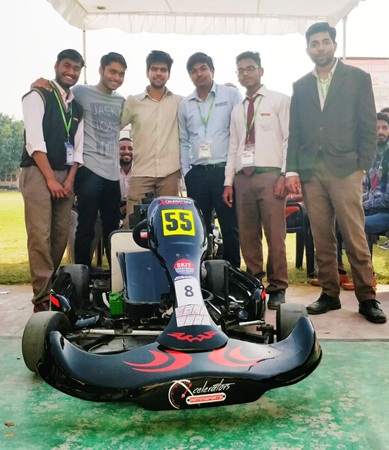 5. Festival of Education, hosted by Government of Rajasthan.
Team Xcelerators of SAEINDIA SKIT Collegiate Club presented All Terrain Vehicle Project (CAR No.-74 named FUROR) in Festival of Education, hosted by Government of Rajasthan on 5 August, 2017. It grabbed the attention of many educators, students and policy makers. Shri Vasudev Devnani, Education Minister, Rajasthan Government appreciated efforts of students and Institute efforts in the design and fabrication of ATV.
6. Off- Road Race:-Team Xcelerators was honoured to exhibit their ATV in MOTO DANGAL, an off-road track race event organized by WESTERN MOTORSPORTS on 2nd September, 2017 at outskirts of Jaipur. The track was designed on Enduro-Cross format, having many tough obstacles like water pit, slump, rock crawl, tier pit and many more. ATV of SKIT named as FUROR at the event, as it become the centre of attraction of the event and also news published in newspaper. Everyone appreciated the hard work and dedication of the students and Institute for their support.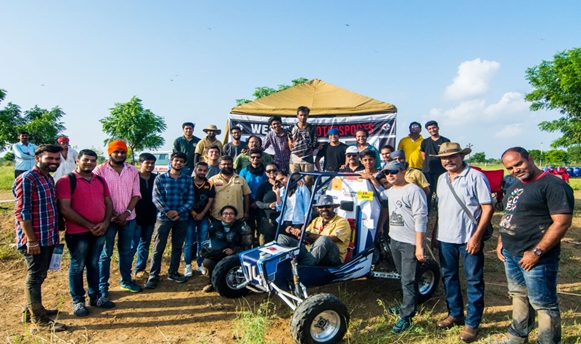 More Photographs:-