Campus
The institution is developed with intellectually vibrant ambience in a serene and lush green environment. Comprising smart buildings with well equipped lecture theatres, tutorial rooms, laboratories, Wi-Fi connectivity, hostels, canteen, mess, sports grounds, Learning Resource Center, all in an eco-friendly environment.
Hostel
The campus has separate hostel facilities for boys and girls with two edifices, having strength of 460 and 265 students, respectively. Students get healthy and nutritious meals in the Hostel Mess. Recreational Sources include a Common Room for activities, Television, Gymnasium and Indoor Sport's room.
Canteen
Other than the mess facilities, a canteen is also run for the students. The entire canteen has a pleasant ambience making it a good hang out place for students. Being away from home does not mean that you cannot have food that tastes as good as the stuff dished out from mom's kitchen.
Seminar Halls
SKIT has well equipped modern auditoriums and seminar halls as an auditorium called Gyanmandir with seating capacity of 850 people, a mini auditorium named as J.C Bose with seating capacity of 250, mini open air theatre called C.V Raman theatre and Amphi thetre to conduct various workshops, conferences and other activities.
Central Computing Facilities
SKIT has developed a central computing facility, having more than 1050 computers including different labs for conduction of various online exams, trainings and recruitment process with Internet and Intranet connectivity over wired and Wi-fi medium.
Other Facility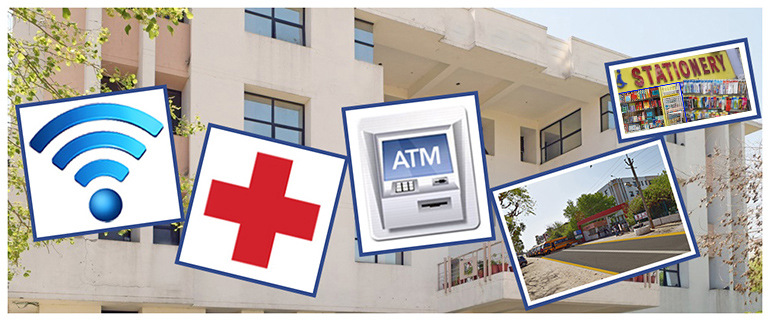 Wi-Fi
Wi-Fi internet facility is present in the campus, including the hostels 24x7.
Medical Facility
In case of Medical Emergency, prompt medical attention is provided to all the students along with ambulance facility. Post college hours doctors visit the campus on regular basis.
Conveyance
A fleet of buses provided by the college for the students has access to every corner of the city. Hostellers get transport facility on need basis after college hours.
ATM
A Punjab National Bank ATM machine is installed in the campus and banking facility is also provided.
Tuck Shop
There is a utility shop present in the campus which caters to the basic needs of the students. It is also well equipped with thefacility of STD, Photocopy and Lamination.