Department of Electrical Engineering, SKIT Jaipur, is organizing AICTE sponsored Two day National Conference on "Design Aspects, Operation & Control of Smart Grids" on 27-28 October, 2017.
This conference aims at bringing together academicians, researchers, engineers and professionals who are working in this area on a common platform to share their thoughts. We hereby invite and request for your active participation in the conference. Looking forward for yours august presence in the event.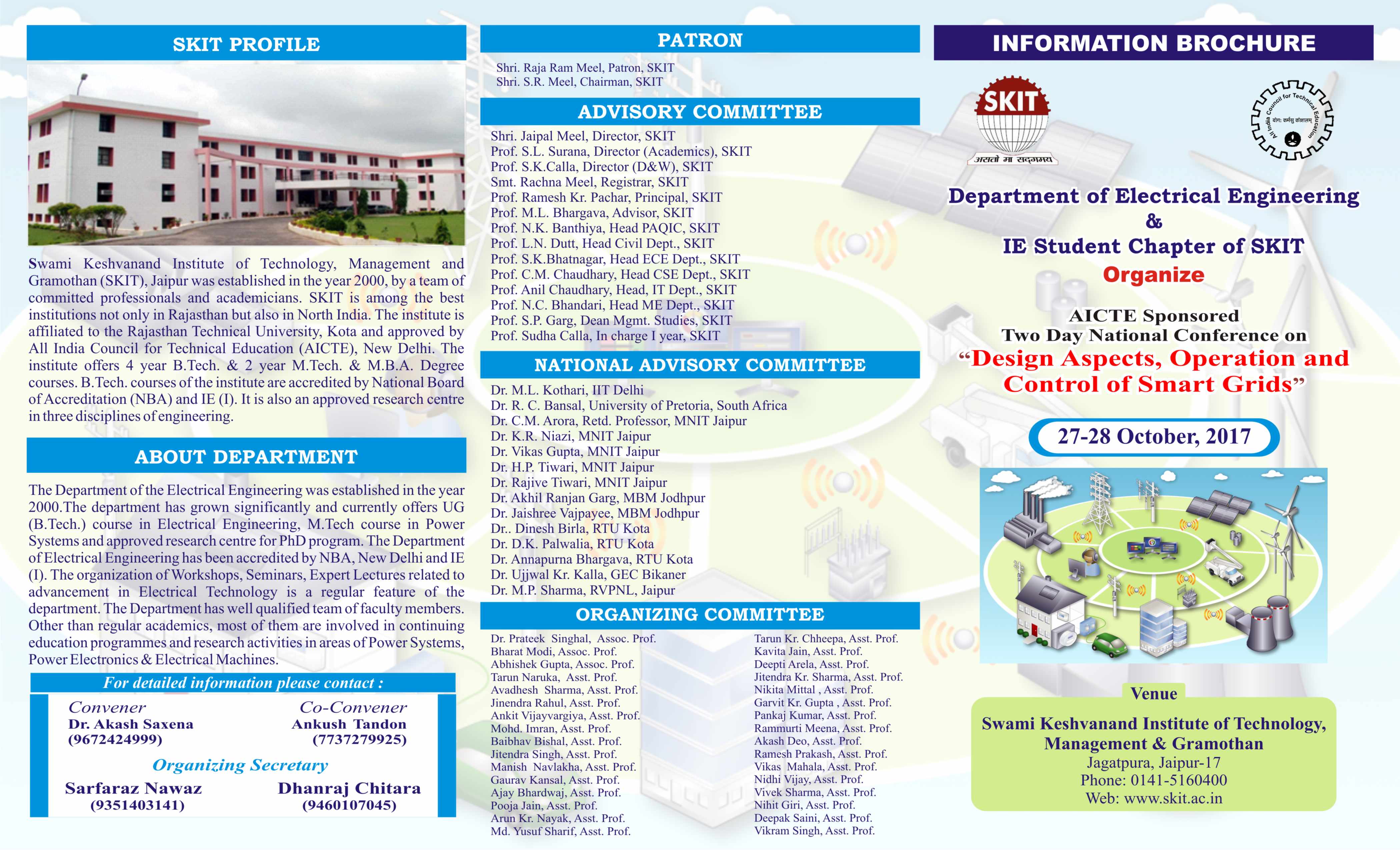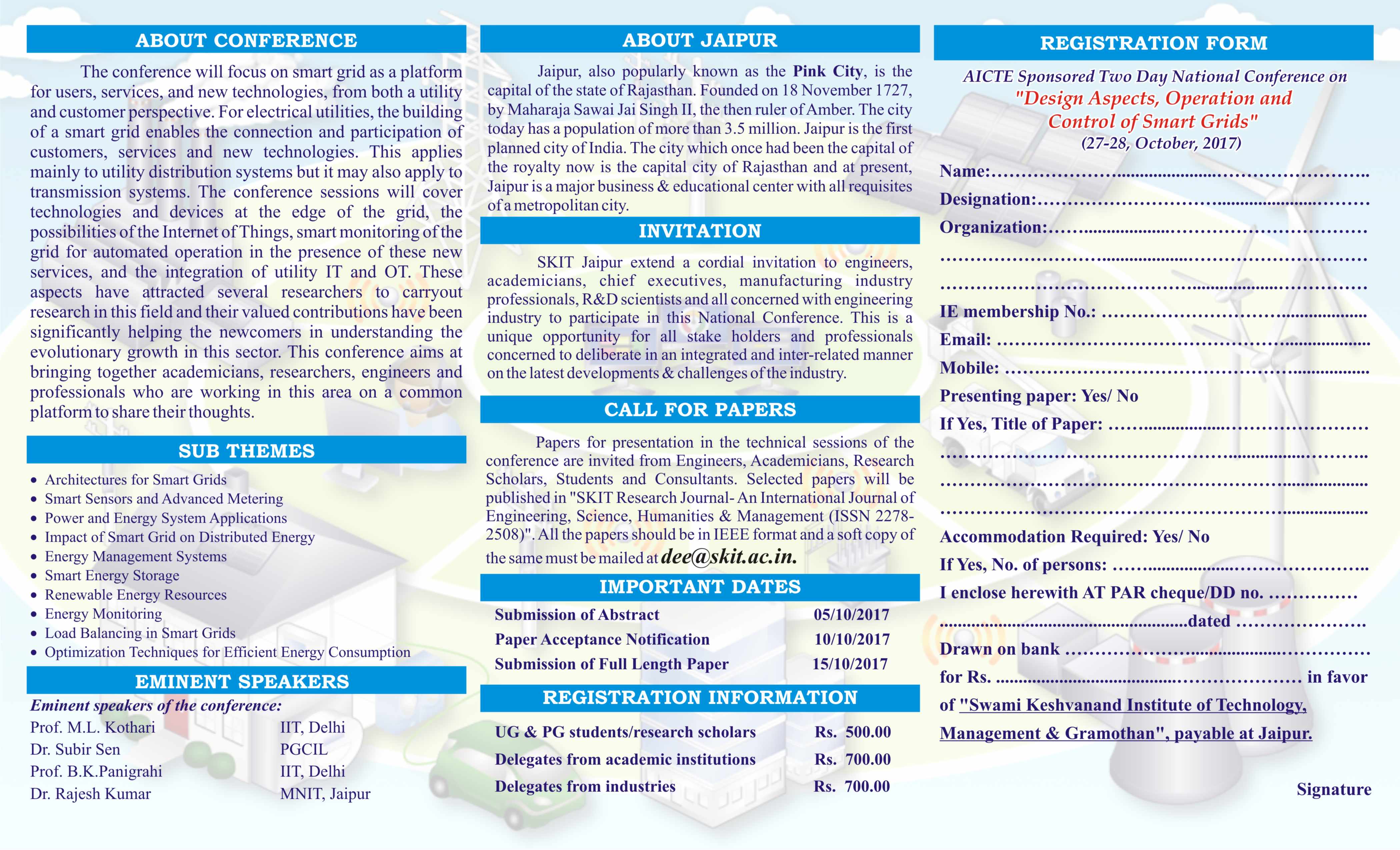 Course Name: Design, Aspects, operation and control of smart grids
After the completion of this course, the student will be able to:  
 

CEE1A.1

Understand the background for Smart Grid and have knowledge about important terminology 

 

CEE1A.2

Know about challenges and possibilities related to smart meters 

 

CEE1A.3

Have knowledge about technology for microgrids and integration of renewable energy and energy storage

 

CEE1A.4

Have knowledge about electric energy production with solar cells 

 

CEE1A.5

 Have knowledge about LCOE (Levelised Cost of Energy)
COURSE OUTCOMES AND COURSE
COURSE OUTCOMES

COURSE

I

Power systems history and basic physics. For those who have had a power systems course already, supplemental challenge problems will be assigned. The history portion will particularly focus on how it is that we ended up with the currently push toward smart grid (a topic that we will revisit throughout the course).

 • Basics of AC power

• The beauty and simplicity of the Electro-mechanical grid

• Market and policy changes

II

Smart Grid & power supply

 • Power System economics

 • Renewable, intermittent power sources

• Storage

 • The need for demand response—the emissions and economics costs of peak power

• Microgrids

III

. Smart Grid & the retail customer

 • Advanced Metering Infrastructure & the smart meter

• Home area networks

• Business cases for AMI

• Commercial & Industrial energy management

• Distributed renewables

• Demand response programs & technology

• Energy Efficiency programs & technology

IV

Smart Grid & distribution

• Advances in storm response

• Distributed renewables & storage

• Microgrids

• Distribution network reconfiguration and other intelligent distribution control methods. • Plug-in electric vehicles and the distribution system

V

Smart Grid & transmission

• Synchronized Phasor Measurement Units

 • Flexible AC Transmission Systems

• High Voltage DC

• VAR control; Synchronized Condensers

• Estimating and mitigating blackout, particularly cascading failure blackout, risk.
MAPPING OF CO WITH PO & PSOs
Course Outcomes

Program Outcomes

Program

Specific

Outcomes

1

2

3

4

5

6

7

8

9

10

11

12

1

2

 

CEE1A.1

3

3

3

3

3

-

-

3

-

3

-

3

-

3

 

CEE1A.2

3

3

3

3

-

-

-

-

-

-

 3

-

-

3

 

CEE1A.3

3

3

3

3

-

-

-

-

-

-

3

3

-

3

 

CEE1A.4

3

3

3

3

3

-

-

3

-

-

3

3

-

3

 

CEE1A.5

3

3

3

3

-

3

-

-

-

-

3

3

-

3